BEECH POWER attended the "Old Beech Forests" Conference
10-12 October, 2019
Recently, BEECH POWER took part in the conference "Old Beech Forests" in Bad Langensalza, Germany.
Eight years ago, the Hainich National Park and four other German beech forests were listed as UNESCO World Heritage Site "Ancient and Primeval Beech Forests and of the Carpathians and Other Regions of Europe". This unique 3-day event included various sessions, bringing together beech experts of Germany as well as other practitioners and scientists. One focus of the conference was the presentation of the areas, change since the designation, problems and perspectives. It also dealt with issues of climate change and the integration of nature conservation objectives into forestry. Climate change is having a frightening impact on the German beech forests. However, the problems extend beyond Germany: there is a danger that massive logging in Romania will affect the world heritage beech forests for good. The planned extension of the World Heritage site and the proposed new component parts were also presented.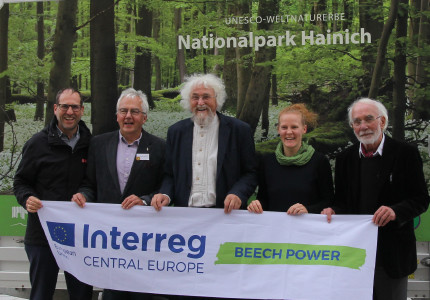 On the picture from left to right: Hanns Kirchmeir (EBFN, Associated Partner), Manfred Großmann (NP Hainich, Associated Partner), Hannes Knapp (EBFN, Associated Partner), Lara Mia Herrmann (Eberswalde University for Sustainable Development, Lead Partner) and Lebrecht Jeschke
 The Hainich National Park was in the highlight at the conference. On the first day in the evening a photographer presented photos of Hainich National Park taken during the course of 20 years to allow the participants to have a photo trip down memory lane.
On the last day the participants had an excursion in Hainich National Park themselves, into the oldest stocks of the national park, where for about 50 years no forestry takes place.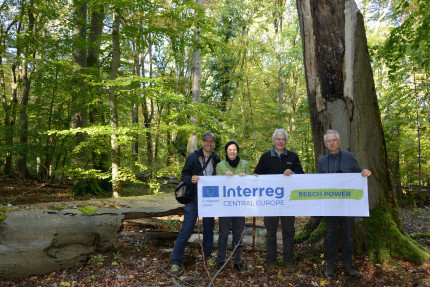 On the picture from left to right: Dr. Hanns Kirchmeir (EBFN, Associated Partner), Lara Mia Herrmann (Eberswalde University for Sustainable Development, Lead Partner), Manfred Großmann (NP Hainich, Associated Partner) and Dr. Martin Flade (Biosphere Reserve Schorfheide Chorin, Associated Partner). (Copyright: Thomas Stephan)