Train the Trainers in Warsaw, Poland
30.09-01.10.2019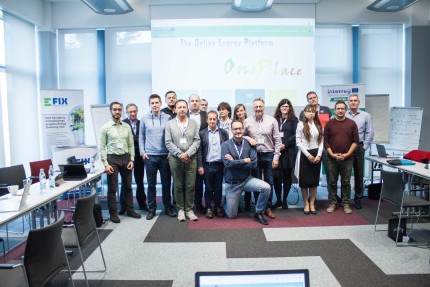 During the two-day event in Warsaw (Poland) we hosted other transnational projects related to Energy Efficiency in public buildings, namely:
Beside this, the following three topics were presented and discussed:
THEMATIC PANEL 1: Energy and climate planning for boosting public building EE
The first panel gives an overview about the tools and actions in EE as well as insights to the decision-making process regards EE actions, RES investments. A guided exercise during the first panel will surely help you to put theory into practice!
THEMATIC PANEL 2: Online Energy Platform – OnePlace
Our OnePlace platform will be introduced during the second session as well as tutorial on how to use and how to navigate between the different sections which help the visualization and query of energy audits within a 3D city model to improve assessment, understanding and planinng of energy uses and flows. At the same time, the platform offers also guidebooks, tools and best practices to improve energy efficiency of your building(s).
THEMATIC PANEL 3: Introduction to EU funding sources and financial models for applying energy efficiency in public buildings.
In this section, participant will become familiar with the European Structural and Investment Funds – what is their role in the European Union, who can be a beneficiary, their aims, how do they work and what are their expected results.
Don't forget to like and share our Facebook page (Facebook https://www.facebook.com/BOOSTEECE/), where you can find together with our latest activities and developments.