KICK OFF MEETING IN KOŠICE
5-6 June 2019, Košice, Slovakia
In Košic
e, second biggest city of Slovakia, a two-day kick off "CITYCIRCLE" conference was held which gathered all project partners. 

1 - Technical University of Kosice (SK) 
2 - European Grouping of Territorial Cooperation Via Carpatia with Limited Liability (SK) 
3 - Development Agency North Ltd (HR) 
4 - City Municipality of Varaždin (HR) 
5 - Energy Managment Agency of Friuli Venezia Giulia (IT) 
6 - Municipality of Udine (IT) 
7 - City of Kranj (SL) 
8 - E-institute, Institute for comprehensive development solutions (SL) 
9 - Vorarlberg University of Applied Sciences (AT) 
10 - bwcon (DE) 

TUKE, project lead partner, organised a dinner on the first day of the meeting. It was a chance for partners to meet in person and exchange information before main event, kick off conference next morning.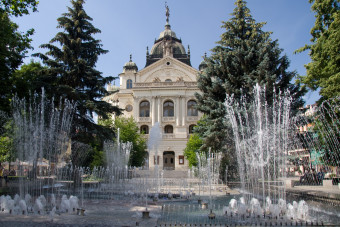 Kick off conference was held in Kulturpark Kasárne which is an ex military object now transformed into a culture park in time when Košice were european capital of culture back in 2013. Conference lasted from 9 AM until 5 PM. After hosts welcome speech, every partner had a chance to present themselves and a region they are representing. Bigger part of conference was designated for presentation of work package leaders. Work package leaders exhibited clearly and in details how every and each one of them saw the future of "CITYCIRCLE" project.
Next conference will be held in Udine, some time in autumn. Thank you Košice, thanks to our hosts Mojmir and František from TUKE and thanks to all the representatives from all other partners for a pleasant company and expert discussions. 

See you in Udine!