2nd Project Meeting and 1st study visit in Celje, Slovenia.

31.01.2017- 03.02.2017

Partners met in Celje for the second time to discuss about smart schools management plan, strategies for schools, senior and junior energy guardians to be established in each school and pilot actions and to define the next tasks and activities for achieve project aims.

During the meeting, it took place the 1st study visits in Celje with the aim to showcase and exchange best practises acquired in the Energy Efficency management and share solution about best practises adopted in the partner areas. The visits in Celje were concentrated on a case of using surplus energy from production for remote heating system and the visite at local primary school where has been adopting a innovative energy management system with a positive impact on energy consumption reduction.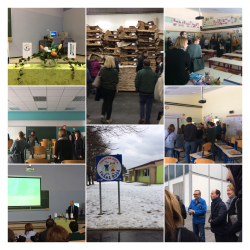 2nd COORDINATION MEETING, 2ND SC MEETING AND 1ST STUDY VISIT Celje, Slovenia, 31th of January- 3rd of February 2017 were a great possibility to meet face to face with Project Partners, share new ideas and Best Practices. Here is attached a link to short movie about this event. Enjoy watching!