I-CON: Final Conference and Steering Committee Meeting
Ljubljana, 22 May 2019
Our final event for I-CON project took place in Ljubljana, Slovenia on 22 May 2019, where project partners were welcomed by the hosting partner – CCIS-Chamber of Agricultural and Food Enterprises.
We kicked off our three-day event with the final conference, entitled »I-CON, I-CAN« which hosted 15 Slovenian as well as international speakers and over 50 participants.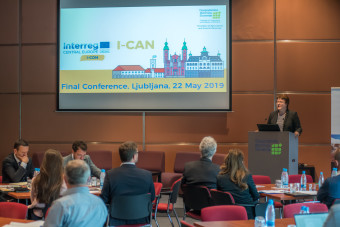 The conference was an ideal time to present the actions and results of the three-year project to the public. A special welcome speech was done by the representative of the Slovenian Ministry of Agriculture, Forestry and Food. It was followed by another governmental representative, dr. Peter Wostner from Government Office for Development and European Cohesion Policy of Slovenia. We heard about the Slovenian experience with the smart specialization implementation.

A big interest from the audience was about project partners' presentations of challenges and successful stories that they had achieved during the project time. In addition to speeches regarding challenges, activities and results of the project, we were able to see several short video testimonials from the SME' representatives that were a part of the project. Those SMEs were able to get solution providers for one of the three areas: food quality, safety and labelling, mechatronics and food packaging design. Many successful stories proved the true value of the I-CON project.
One of the already existing tools that proved to be very useful during project I-CON, was DesignCrowd Platform. It is a freelance platform that connects designers and those who need a new design and has helped many SMEs to get a new design on this platform through project I-CON. It can be used also after the end of the project and we found out that SMEs can get nice new designs for affordable price.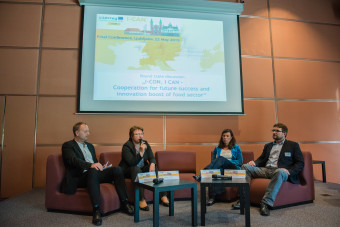 The final conference ended with the round table discussion. We gave to the round table a meaningful title »I-CON, I CAN - Cooperation for future success and innovation boost of food sector«.
The following days were also very busy for project partners. Steering committee meeting, spread over two days, consisted of final arrangements and evaluation of the three-years long project

A brief overview of the activities was done which showed both - the work that had been done and the work that needs to be done reporting wise. For the last time, topics of reporting and financial issues were discussed. The meetings ended with a positive note and congratulations on job well done among the project partners.
With high satisfaction with the project, the partners discussed abut further opportunities for future collaborations. 
I-CON Final Conference 

Dear representative of SMEs, policy makers and other institutions,
3 years ago, we decided to offer something more to food and agricultural SMEs.
We knew that our SMEs are producing quality and especially tasty foods, but we also knew that they are facing different challenges in the area of mechatronics, food design, food safety and labelling.
This is why 5 regional partners and 4 knowledge partners, coordinated by Technology park of Pomurje, joined to launch the I-CON project.
During these years, we tried to help as many SMEs as possible either with knowledge transfer and by sharing and using different tools, as well as with concrete solutions from mechatronics, design, food safety and labelling. Together with SMEs in different countries, we prove that even despite their smallness, SMEs should easily say "I-CAN" to any challenge that comes in their way.
As I-CON project is coming to the end, we kindly invite all of you to participate to our
                            I-CON Final Conference
to present and discuss about project activities and achievements.
The conference will take place on 22 May 2019 in Ljubjana, at Chamber of Commerce and Industry of Slovenia (Dimiceva 13, Ljubljana).
The programme of the conference is downloadable by clicking here.
Participants are kindly requested to register in advance by completing and submitting the following Registration Form (English version - Slovenian Version).