School of Advanced Social Studies in Nova Gorica at the 10th International Conference on Information Technologies and Information Society 
24.10.2018 - 26.10.2018, Novo Mesto, Slovenia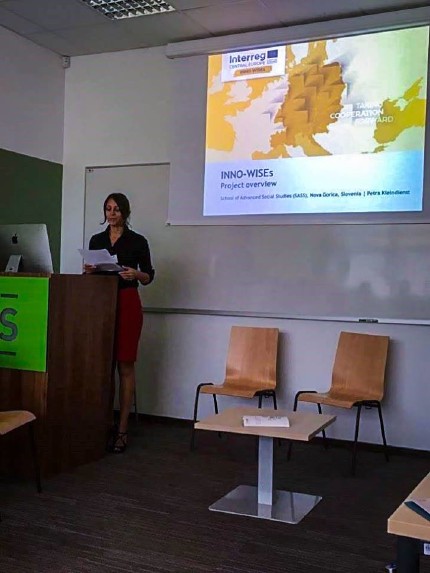 School of Advanced Social Studies in Nova Gorica (SASS) presented INNO-WISEs project in the framework of 10th International Conference on Information Technologies and Information Society (ITIS2018). This conference took place on 24-26 October in Novo Mesto, Slovenia. The organising team of the ITIS2018 who organised the presentations of the different projects covering the theme invited SASS "Interreg Capitalisation Session: Digital innovation for the Danube region and beyond". 

SASS presented the genral overview of the project, with a special emphasis on building ICT platform. The latter is common to almost to almost all the projects presented at the conference. Few local and regional public authorities, higher education and research entities and SMEs were present. SASS have shared with them good practices within INNO-WISEs project. They presented INNO-WISEs project to different stakeholders who are in contacts with WISEs. Therefore, INNO-WISEs project visibility increased substantially, both in terms of networking with partners of the other INTERRED projects as well as in terms of reaching broader audience among WISEs. 

This conference was the opportunity to build networks, share wisdom and discuss how to create a more sustainable future. The discussion at the conference implied new possibilities and ideas for socially responsible entrepreneurs that can be useful for project implementation. As already explained, the conference strongly contributed to INNO-WISEs project visibility.