Transfarm 4.0 Final Event, 16 June 2022
Transfarm 4.0 is coming to an end and what better way to say goodbye than inviting researchers, farmers, companies to the project final event in Susegana, one of the towns dotted across the  breathtaking, vineyard-covered landscape of the rolling Conegliano and Valdobbiadene Prosecco Hills.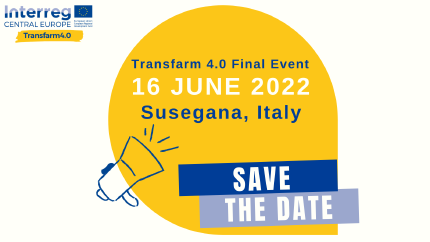 Transfarm 4.0 final event addresses three main aspects, which are relevant for the project and the agricultural sector alike: state of the art of precision agriculture technology, lessons learned during the project activities, interdisciplinary and intersectoral cooperation alongside policy recommendations for the digitalisation of agriculture.
The event will take place on 16 June 2022 at the CREA Experimental and Conference Centre in Susegana, a municipality in the Province of Treviso, located about 45 km north of Venice.
You can click here to register 
or copy this link: https://eventi.federunacoma.it/ev-f443d2d1db666ea4c2df2e5a275fc4382fb5b7d0
AGENDA
9.15
Welcome coffee and participants registration
 
10.00
Welcome
Riccardo Velasco – CREA
10.15
TRANSFARM – Our challenge within the Central Europe region

Diego Tomasi, Former Project Manager CREA

10.30
Innovation in Precision Agriculture – An outlook for the future
Alessio Bolognesi FEDERUNACOMA
10.45
Pilot Action 1- New Isobus Applications

Reinhard Streimelweger

Francisco Josephinum


11.00
Pilot Action 2  - Remote and Proximal Sensing

Jurij Rakun – University of Maribor


11.15
Pilot Action 3 –Big and Smart Data Management

Peter Bodor Pesti
University of Budapest - Mate 

11.30
Lessons learned and messages for the policy makers

Marco Pezzini FEDERUNACOMA

11.45

Future opportunities in EU programmes

Setting the scene and working groups creation

Andrea Grigoletto – Fondazione FENICE

FILIPPO MAZZARIOL - Unioncamere Veneto


12.30-14.00
Lunch break
14.00-16.00
Working Groups around future opportunities

Andrea Grigoletto - FONDAZIONE FENICE  

Luca Masiero - CREA 

Giulia Righetti - NAXTA 

Giuseppe Saija - FEDERUNACOMA 

16.00
Wrap-Up and project closure 

Riccardo Velasco - CREA 

Giuseppe Saija - FEDERUNACOMA 

16.00-17.00
Arrivederci on a Prosecco glass