2nd Local Support Group meeting in Slovenia
The 2nd Local Support Group meeting was held on 30th August 2018 in Elementary school Puconci, organized by Slovenian partners in project RURES Development agency Sinergija Ltd and Local Energy Agency Pomurje.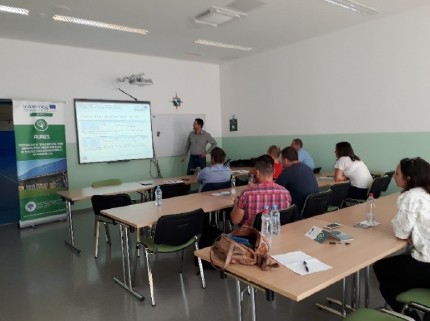 At the beginning of the meeting director of LEA Pomurje Mr. Bojan Vogrinčič presented current state of the project and activities that were carried out during the previous project period. He presented the pilot project of the Polish project partner - Intelligent water metering (IWM) at water distribution system in Pałecznica Municipality which the project partners and external experts had opportunity to see in the framework of the 3rd project meeting and transnational peer review in Poland.   
After that, Mr. Boštjan Zver (Javno podjetje VODOVOD SISTEMA B d.o.o.) presented ideas and possibilities of transferring the concept of the above mention pilot project to Pomurje. As the contractor of the economic public service of drinking water in twelve municipalities, they take care of internal controls on the health and safety of drinking water in the eight areas of supply in Pomurje. They have centralized control of water resources. Consequently, more efficient microbiological and chemical suitability of drinking water is ensured, hydraulic conditions, pressure conditions and fire safety are improved.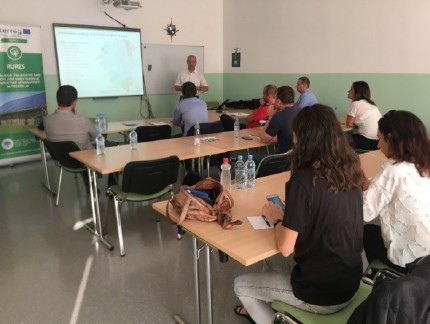 In the and of the meeting Mr. Bojan Vogrinčič presented pilot investment in Pomurje - Solar "E-Tree", he presented the economic and environmental impact of creating the value of RES and efficient energy use in the case of the Solar "E-Tree", which will be installed in the Municipality of Puconci. Explicitly presents how much CO2 emissions occurs in the production and installation of the Solar "E-tree", and what amount of emissions in the lifetime of the Solar "E-Tree" is saved depending on whether electricity is pumped from the grid rather than from a photovoltaic solar panel. The discussion between the members of the LSG continued regarding the location permit and the installation of the Solar "E-tree" itself.
After the meeting the participants looked at the possible location of the Solar "E-Tree installation".