SubNodes:
3rd Partner meeting

22-23 August 2018, Wągrowiec and Poznań, Poland
The third partner meeting in Wielkopolska was packed with external expertise and good practices on regional public transport. The meeting's focus was on participatory concepts and awareness raising.
The first day started with a field visit of Wągrowiec train station and its surroundings provided by the mayor, Mr. Krzysztof Poszwa, himself. This was followed by a session with five external experts on stakeholder and passenger participation and involvement. Speakers from Poland, Italy, the Czech Republic and Germany shared their experiences.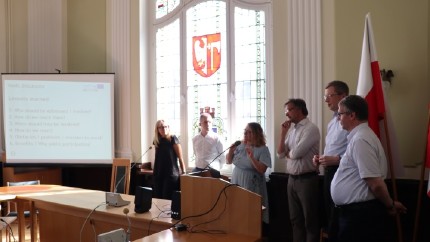 On the second day, the partners presented the identified subnodes in their respective regions and informed about their strengths and weaknesses. The meeting lay ground to the upcoming derivation of measures and pilot actions.