YOUMOBIL online course in April 2021
Online course about the reinvention of unused railway infrastructure will take place online and is tailored for infrastructure managers, local and regional government body employees and students of related studies.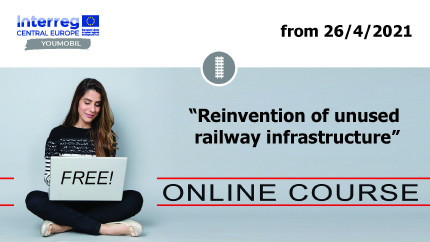 With a series of theoretical lectures and interactive practical exercises, participants will acquire knowledge about the redefinition of abandoned infrastructure for public function, with the emphasis on railway infrastructure. Speakers will present successful practice examples throughout Europe and after the theoretical part, students will be divided into groups for practical work. With the mentor guidance, they will elaborate and present a concrete redefined building example.
All participants will benefit in many ways, not just with knowledge and experience, but with networking and students with ECTS credits and prizes.
The course will be in English, all interested parties can apply and it is FREE of charge.
Please find more details about the YOUMOBIL online course here, and the final programme here.
Registration is now opened, until 21/4/2021.