Lynx monitoring in Slovenia 2018

Lynx situation in Slovenia
The Dinaric-SE Alpine lynx population went extinct at the beginning of 20th century due to hunting and persecution, habitat loss and lack of prey species. It was successfully reintroduced in the 1973 by translocating animals from Slovakian Carpathian mountains to Slovenia. The animals then spread towards the South-East to Croatia and Bosnia and Herzegovina, as well as to Italy in the West and Austria in the North. Unfortunately, after a few decades, the population started declining, mainly due to genetic deterioration (inbreeding and genetic drift). Today, to save the population, urgent measures are needed to refresh and enrich the existing population and to improve its connectivity with other populations, especially the Alpine one. Thus, LIFE Lynx project was funded by EU LIFE programme to save the Dinaric-SE Alpine lynx population from extinction.
At the same time, 3 Lynx project began, starting with pilot lynx monitoring in Slovenia. After the monitoring system guidelines were prepared, monitoring program was implemented. The monitoring will last from January 2018 till June 2020. Furthermore, regional action plan for lynx monitoring was prepared and signed by project partners (CE1001_3Lynx_D.T2.2.1_Detailed implementation schedule for Pilot Monitoring Implementation Plan (Din - SEAlp). The timing of the different implementation steps is described in detailed implementation schedule for Pilot Monitoring Implementation Plan for Dinaric – SE Alpine region. The reporting period timeframe is lynx year.  
Lynx monitoring methods
We created a toolbox for lynx monitoring and regional priority list with cons and pros of different methods which defines the most suitable monitoring methods for lynx (CE1001_3Lynx_D.T1.3.3_Toolbox for lynx monitoring).
Camera trapping is one of the most appropriate methods for lynx monitoring. We started with pilot camera trapping in January 2018 and continued intensively in September 2018. We set at least 2 cameras per grid cell with known lynx presence. During intensive monitoring we had several meetings with stakeholders (hunters, foresters), who helped us with setting camera traps at the most appropriate locations for lynx.
Telemetry will be another method of pilot lynx monitoring in Slovenia. We started with preparations for live capture one lynx. After successful live capturing of one lynx we will start with telemetry monitoring.
In the winter time we will also perform snow tracking which is a monitoring method consisting of walking transects in the field by following all recognized lynx tracks and collecting non-invasive genetic samples (scats, urine, hair).
Timeframe
In Slovenia, Lynx year 2017/2018 monitoring started in January 2018 and lasted till end of April 2018. From May 2018 till end of April 2019, Lynx year 2018/2019 monitoring is being conducted.  
Camera trapping
In the period 1.1.2018 - 30.4.2018 we carried out pilot lynx monitoring using the camera trapping method in three state managed hunting grounds in Kočevska (LPN Medved, LPN Kočevska reka) and Notranjska region (LPN Jelen), covering core (reproductive) lynx habitat in Slovenia.
Six camera trapping sites were selected in LPN Jelen (Notranjska) and 5 camera trapping sites in LPN Medved and Kočevska Reka (Kočevsko; figure 1). Two camera traps were set at each camera trapping site, summing up to 22 cameras set up in total.



Selection of camera trapping sites
We primarily selected for two types of camera trapping sites: lynx marking sites and lynx trails.
Lynx marking sites. Lynx preferably mark large conspicuous objects. Old forest huts, barns, wells and other anthropogenic objects are especially frequently used as lynx marking places. Conspicuous rocks or boulders (especially vertical or over-hanging sides) and certain trees (mostly young conifers) are also often marked by lynx. Those objects were closely inspected and sometimes lynx (or wildcat) hair was found. Lynx urine smell could also be sensed if lynx urinated recently. Such locations were preferably selected for lynx camera trapping.
Lynx trails. Trails which are often used by lynx are not easily recognizable in the field. There are however certain parts of habitat that lynx typically uses for movement and should thus be used as camera trapping sites: ridges, narrow passages (e.g. between two rocks), shelves on steep slopes, fallen trunks and also forest roads and logging trails. Snow tracking of lynx can be very helpful in detecting the trails, as well to decide on the best micro-location to set the cameras.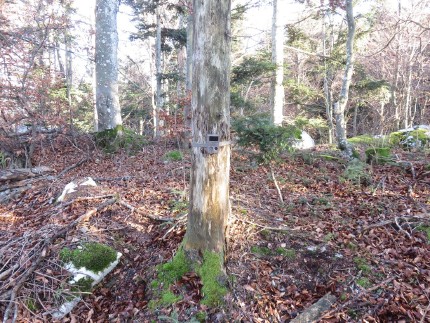 Results
Lynx was photographed at two sites (Figure 3-5).  At least two different lynx were recognized. All lynx camera-trapping data will be analysed visually to identify lynx individuals based on their unique coat pattern. The identification will be first done within hunting grounds, then on a national level and finally at an international level. The goal of the procedure is that each individual lynx is recognized through a process of comparing all recorded animals in the population, thus ensuring best possible accuracy of the population size assessment.