Activities in Czech Republic
KORDIS JMK supported the transformation of unused railway infrastructure into the point-of-interest and improved IT tools in South Moravia, to make the public transport more attractive for young people.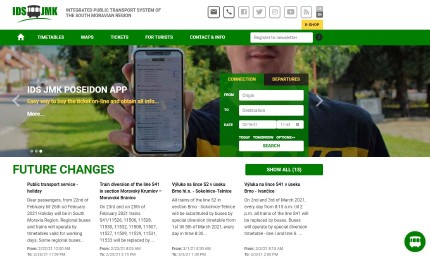 At the moment, in the Integrated Public Transport System of the South Moravian Region (IDS JMK), there is a possibility to buy a ticket via e-shop and the mobile app named POSEIDON but this seems to be too complicated for both young and older people.
Therefore, KORDIS asked young people what would they like from an app and found out they just wanted to add some functionalities to the existing applications: to buy a ticket with as few clicks as possible, to be better informed about transport situation, to ease the e-ticket inspection, English version of web pages and adding chatbots to web and e-shop web pages.
Despite the mainstream opinion that young people want to have social component in every aspect of their life and technology, it proved to be wrong in this case. So KORDIS decided to improve the POSEIDON app and web page.
What does this mean for the people using public transport? The e-ticketing and information POSEIDON app has been changed to better prove identity and students' status during a ticket inspection.
Besides that, how do young tourists orient when using public transport? They search websites. Can they do it if they're only in Czech? Of course not. This is why the website has been translated to English.
Next, what do young people expect from information? To be available right now and here. Calling call centers or writing e-mails is out of the question, if you ask them. That is how the idea about the e-shop and website chatbots was born.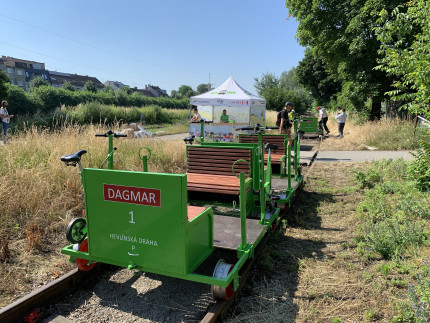 Besides the technology, can public transport become more interesting? Local municipalities in the South Moravian Region think so. One of them bought the railway track leading to Hevlín including the cultural heritage protected railway station and plan to re-use it for tourist purposes. This station is not in use for train transport anymore.
KORDIS has joined the revitalization efforts, as a part of this larger project, and helps with technical issues necessary for re-usage of the building and track for tourist purposes. Old railway line and railway station are located on Brno - Vienna cycle route and will be revitalized by the local municipality together with the local action group as a point of interest on this cyclo-route.
The Youmobil project significantly contributed to joining forces among the municipality of Hevlín, KORDIS railway experts and locals. What's  the result? 4 draisines (man-powered rail bikes) await tourists who can enjoy quite uncommon ride on the local railway throughout a bit abandoned but beautiful country.

All of this should increase the attractiveness of the region's public transport for young people.