Activities in Italy
Agency for mobility and local public transport Modena (aMo) tries to improve mobility of young people by introducing software-driven on-demand service and by revitalizing Modena station building.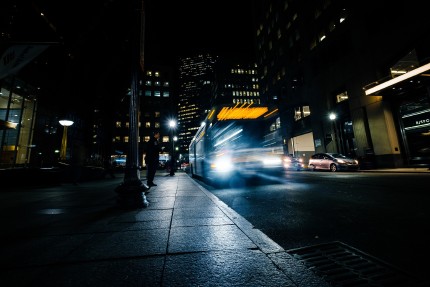 There are many young people living around Modena, and not actually in the city center. Those low populated, rural, areas don't have an offer of public transport to/from Modena in the evening hours, so young people have a choice: move to Modena, buy a car or limit their social life.
First two options are expensive. Housing in Modena is more expensive than in surrounding rural areas and buying a car is a significant monthly cost as well. The third one is also not a great option for young people, who need social interactions.
Young people expressed their need to go from the outskirts to Modena center from time to time, not regularly, every day.
This is why aMo introduced public transport service that is on-demand, which means that the trips are performed only in case of reservations. Both reservations and payments are managed by the new YOUMOBIL app (Android, iOS and Huawei).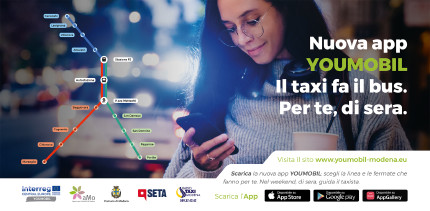 The service is active on weekends - Friday and Saturday evenings - carried out by the Modena Taxi Cooperative, on three lines connecting the city center of Modena (Piazza Matteotti, Bus Station and Railway Station) with the outskirt municipalities:

Ganaceto, Lesignana, Villanova and Albareto (north line - yellow)
Marzaglia, Cittanova, Cognento, Baggiovara (west line – red)
Portile, Paganine, S.Donnino and S.Damaso (south line – green)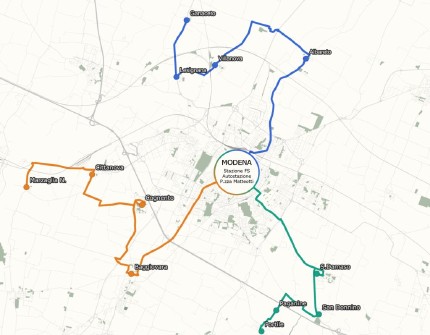 You can find more detailed information on the service website or check how it is used in the video.
Along with the on-demand service that is to be introduced into operation, and since 2021 is the European Year of Rail, aMo wandered how to include young people into railway revitalization activities and boost their interest in public transport.
The opportunity presented itself in the form of an unused "Small station" in Modena. This is a railway station owned by Emilia-Romagna Railways, on a line connecting Modena to Sassuolo and it is directly linked to the main railway station of Modena.
At the moment, station buildings are currently not used and are in a state of abandonment and the only structures used, on this vast area, are the tracks and a building used for light train maintenance. This is the reason aMo decided to revitalize a former electrical substation with a large available area surrounding it. They brought young students there, to see, feel and measure this beautiful building and propose what could be done with it, to revitalize it in a way to serve the public, especially them.