Bergamo: Finance of new trams and electric buses
Completion of the Bergamo-Dalmine and Bergamo-Villa D'Almè lines
Bergamo province will receive more than 130 million € from the National Recovery and Resilience Plan to finance the e-BRT - Bus Rapid Transit - Bergamo-Dalmine line (80 million €) and the T2 Bergamo – Villa D'Almé tram line (50 million €). This objective has been reached thanks to the commitment of Deputy Minister Alessandro Morelli in the framework of the National Strategic Plan for Sustainable Mobility.
The funds have been already existing, and now they have been relocated from a chapter of the Ministry of Infrastructures to those allocated by the NRRP – National Recovery and Resilience Plan and the projects should be finalized by 2026, otherwise the funds will be lost. Specifically, the T2, the Bergamo-Villa D'Almè tram line (Brembana Valley), had already been financed with an announcement arrived two years ago by Paola De Micheli, then Minister of Infrastructures, in a visit to Bergamo.
Finally, the e-BRT line will connect the railway station of Bergamo to the school hub via Gavazzeni, the university hubs via dei Caniana and Dalmine, Kilometro Rosso, Dalmine Foundation, the Point, up to the railway station of Verdello. This service will have to be ready by 2026.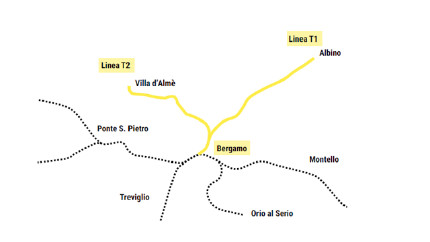 Background photo: Il Tram delle Valli e la nuova linea E-Bus a Bergamo 
Author: Municipality of Bergamo