Design workshop in Karlovac
6/12/2019
Karlovac (Croatia)
Activity: Spot seminar
Target: Technicians and enterpreneurs
Participants: Decision makers, Technicians, Local public authority, Sectoral agency, Higher education and research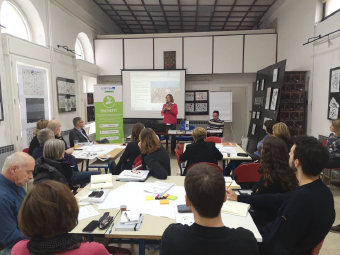 The design workshop, which was introducted by a brief presentation about BhENEFIT project, included project partners from Karlovac City, to give them the opportunity to share their experience over BIM system and the use within their daily activities. 
Before starting the activities, Ms Mornar from green technology and green infrastructure office of City of Zagreb gave her contribution presenting green infrastructure, spatial and urban planning documents and climate change, introducing their project whit topic related to green infrastructure for post-industrial urban regeneration.
The workshop followed three main themes: 
1) Innovative isolation systems and materials;
2) EU Directive 2018/844 concerning quality of the indoor space, fire security, ventilation and climatization of indoor space 
3) Green infrastructures
Focusing on their interest to use modern technology, green technology and renewable energy sources  this workshop was the chance to get the participants to work on specific issue and to help them to have a new perspective and opportunity to HBA building.
Design workshop brought great conclusion regarding energy efficiency, use of green technology and renewable energy sources and join technicians from different field in communication with Karlovac City representatives. It was an and it brought further opportunity for all main participants to be involved in city issues regarding HBA buildings.