BOOSTEE-CE project does not stop and goes digital


On the 21st of April, 2020, a Focus Group Meeting will be  organized by Emilia-Romagna Region with the participation and collaboration of the lead partner - FBK.
The Boostee-ce project, "born to promote" a greater energy efficiency of public buildings in the
Central Europe area through innovative tools, is heading towards the completion of its activities. The final project conference had been scheduled for the month of May in Riva del Garda and, due to the emergency of pandemic Covid19, all partners are organizing events to disseminate the results in the different project Countries, online thanks ICT technologies: Boostee-ce goes digital.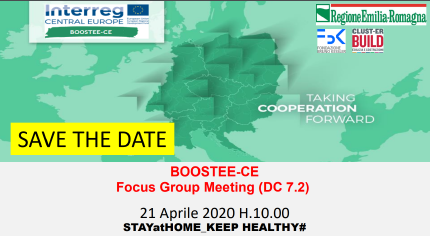 Emilia - Romagna Region, project partner, organizes a Focus Group meeting online, on 21 April 2020, from 10 to 12.30h. To participate it is necessary to follow the link provided.
Started in June 2017 with a partnership of 12 Organizations coming from the Central-Eastern area of Europe, for a total duration of 36 months of collaboration.
BOOSTEE-CE -among the most important results - has created a transnational tool for the realization of energy audits through 3D rendering, calculation of the photovoltaic potentials in the territories involved (8 Pilot areas) as agreed by the partners, the creation of an innovative platform – OnePlace which collects energy data from the pilot areas, information on financial instruments supporting energy efficicency interventions in public building sector and a forum to collect the requests of citizens and municipalities and much more….
Stay tuned for more updates from our partners!