Study Trip in Brno (Czech Republic)

Four RUMOBIL partners visited KORDIS JMK - the coordinator of the Integrated Transport System of the South Moravia Region system, which ensures the operation of the system and coordinates basic transport services on the territory of the South Moravia Region. KORDIS JMK - with a majority share held by the South Moravia Region as well as participation by the city of Brno - began to build this system in several stages following its establishment in 2002. The first of them began to operate on 1 January 2004 as part of the last stage, put into operation on 1 July 2010, this progressive system of integrated transport now covers the entire territory of the South Moravia Region. Under the same conditions passengers can travel in local trains, regional buses, public city transport of Brno (trams, buses, trolleybuses) and city transport in many cities in the region. In all of these lines you can use the same tickets and pay the same prices and the very similar regulations are used. There is a variable tariff system used to determine ITS JMK fares. The fare is determined by the expected length (time) of travel and the number of fare zones.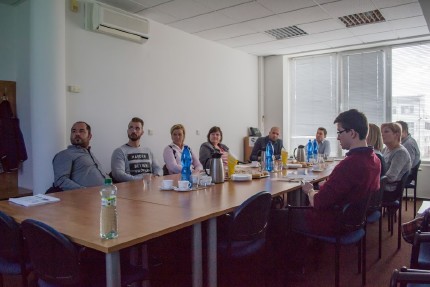 Program of the visit included: presentation of the system, excursion in dispatching centre, round trip by public transport in the region, visit of PT stops.
One of the main aim of the visit was to see how should be stops and stations redesigned and improved to provide more comfort for passengers.