CAPSULE STORIES #4 - Marina Periša
"I think the NPA project is of great value, especially because its purpose is to preserve the cultural heritage of the local community, with the intention of including broader community as well. Nowadays, in the process of globalization the interest for local cultural treasure is often neglected." 
An interview with Marina Periša, a geography teacher at Primary school, Ivan Benković, the initiator of the  project of thematic workshops on cultural and religious heritage of St.Martin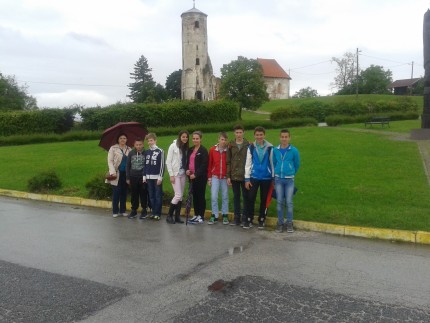 How are you involved in the NPA project?
I joined the NPA project through our research project "Cultural and Religious Heritage of St. Martin in Dugo Selo", which I started at our school in 2014, in collaboration with my colleague Karolina Hrastović. We have elaborated our plan, set our goals and started its realization through a series of extracurricular activities. By getting familiar with the geographical features of our region we tried to find out what possibilities there might be for the development of cultural tourism in Dugo Selo. The students studied the life of St. Martin and through this research they got their own ideas. At first, only our school was involved, and then another primary school, Josip Zorić joined in with their workshops.
What did your project encompass?
In our two-year project, fifteen students of the final grade participated in the group of young geographers. They worked intensively in two stages. The first was the research part, the second, presentation of their works and the knowledge they acquired about religious and cultural heritage of St. Martin. They created hundreds of works: literary works, a play, artwork, digital maps, posters, all of which were presented by the students during their lectures. One of the activities was also the parade of St. Martin. We have been cooperating with other schools from places where St. Martin is worshiped in, for example, the schools in Šćitarjevo and Virje. We investigated whether St. Martin ever stayed in Dugo Selo and we learned that he did not. Still, we were very pleased to learn that as a soldier he stayed in all probability rather close - in Andautonia and Siscia (Sisak). We received great help from Dr.sc. Antonija Zaradija Kiš and Dr.sc. Ines Sabotič from the Cultural Centre St.Martin, Croatia. All stages of the project are documented in a brochure containing a compilation of student works and photographs. It was published under the patronage of the Zagreb County, as a contribution to the cultural and tourist promotion of the town. The theme is part of the eighth grade geography syllabus in which there is an emphasis is on the history of our homeland. It also appears in the seventh grade syllabus when studying Europe and European Integrations. For our guests from other schools we always prepare a presentation in order to present our heritage and our identity.
Which was the biggest challenge in the project and its realization?
When we put everything on paper, we wondered if it would be feasible. We got strong support from the town authorities, including financial. We invested a lot of voluntary work. The project was successfully realized. The conclusion was that Dugo Selo has good preconditions for the development of cultural tourism based on its rich material and non-material heritage. Motivation was great. The students cooperated, it was a wonderful experience to see their cooperation. It was an opportunity for them to improve their knowledge, to accept their differences and develop great friendships. The shy children showed their hidden talents. They had an opportunity and time to find out what they want and what they can do. Even though the project is over and these children are no longer our pupils, whenever it comes to this project and cooperation with KC St. Martin, they all respond with pleasure.
What are the benefits of a NPA project?
I think the NPA project is of great value, because its purpose is to preserve the cultural heritage of the local community. Nowadays, in the process of globalization, the interest for local cultural treasure is often neglected. It is important to help people become aware of their cultural treasure that needs to be further discovered, cherished and shared by sharing experiences. We are delighted to have been able to contribute to this project.