A competition for NGO`s from Świętokrzyskie Province for social innovations

Until August 20, Świętokrzyskie social enterprises, including foundations, associations, and social cooperatives, can apply for the "Competition for the best project in the field of social innovation" organized by Kielce Technology Park as part of the Ce Responsible project.


"CE RESPONSIBLE Sustainable model to support social entrepreneurship" project is co-financed by the Interreg Central Europe program. The Kielce Technology Park in international partnership creates a platform for connecting non-profit organizations with large enterprises implementing a policy of corporate social responsibility (CSR).
 
The "Competition for the best project in the field of social innovation" is aimed at NGO`s in Świętokrzyskie voivodship that have ideas for new social activities aimed at improving the quality of life. It is about innovative solutions to common problems in the field of sport, tourism, recreation and hobbies, education and upbringing, culture and art, health protection, local development, social services and social assistance.

A specially appointed committee composed of KTP employees and external experts will select 10 participants with the best ideas, which will then qualify for the four-month incubation program at KTP, i.e. a series of activities aimed at supporting the development of ideas. It is about supporting the guardian, including counseling and working with the team, assistance in planning and implementing a promotional campaign in social media promoting a social enterprise. Social enterprises selected for this process will also be able to take part in networking meetings with potential partners, as well as training in presentation, promotion and customer acquisition as well as workshops using the Design Thinking methodology.

In the last stage, the participants will present the solutions developed to the committee during the so-called "Pitch days". The three best projects will be awarded with films promoting both the developed idea and the activities of the winning organization.

Recruitment for the competition lasts until August 20 this year. The application form, in paper version, can be downloaded from the website www.technopark.kielce.pl and after it is completed, it should be submitted to the Orange Inc. building. Kielce Technology Park at ul. Olszewskiego 6 - secretary's office room 0.15.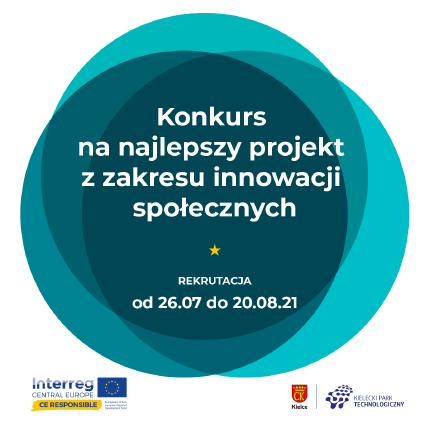 The results will be announced on August 31, and the information will be available on the KPT website.