CEETO Brochure: outcomes & success stories
Produce in the last phase of CEETO project, this brochure present some of the best Sustainable Tourism actions tested during the project implementation and the main project outcomes.
The CEETO brochure was produced both in printed and digital versions in order to promote some of the most relevant actions and experiences included in the CEETO Pilot Protected Areas Action Plans, and to raise awareness on the economic, social and environmental benefits they provide. Likewise, the brochure aims to lead with the example and inspire other Protected Areas, Tour Operators and Local Communities to implement sustainable approaches to tourism.
The Brochure was distributed among project partners in order to present it, after the project closure, in the different communication events they may organise. The objective of this communication tool is not as much to promote the project itself, which was in its last phase when the brochure was produce, but to promote the long-term outcomes and tools that CEETO has provided to help the design, planning and implementation of Sustainable Tourism strategies in Protected Areas.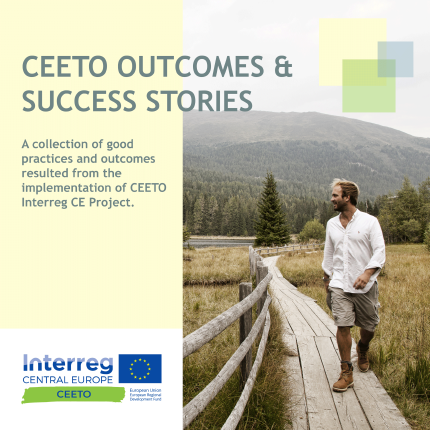 The CEETO Brochure is available to download in different languages (more translations coming soon):