CEETO at the EUROPARC Conference 2018 - Market Place and Workshop
September 18th (Aviemore, Scotland) - Great visibility was given to CEETO Interreg CE project within EUROPARC Conference 2018, which was presented in a Workshop and counted with a dedicated stall in the Marketplace.
The EUROPARC conference 2018 proved being an ideal context where to communicate and disseminate to Protected Areas Managers and practitioners, young people, and policy makers about the important of developing tourism activities sustainably, pre-emptying conflicts and where necessary finding solutions: an approach embedded in to the concept of the CEETO project, which was successfully displayed and presented both during the Workshops and the Market Place.
In particular, the CEETO project was presented during the Workshop "getting the measure of sustainable tourism", where the 30 participants learned about the overall structure of the project with a wide partnership in the CENTRAL EUROPE Programme area, and about the activities implemented during the first year, of the 3 years project.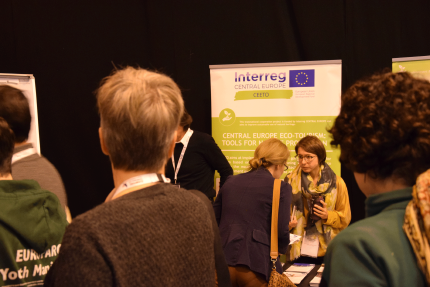 During the workshop was also presented and interesting comparison study (presented by Marta Francisco, University of Alto Minho) between the ETIS indicators system and the ECST indicators developed for part II (award of businesses engaged with the Protected Areas) by the Spanish section of EUROPARC.
The Market Place was then a great opportunity to further discuss and disseminate the contents and the aims of the project to a larger audience of the conference with 465 registered delegates from 42 countries and over 600 participants in some of the events and plenary sessions.

For more information visit the Conference 2018 webpage at EUROPARC webiste and check the Conference Photo Album.