Trend & Innovation Network Introductions and Objective Descriptions

CEUP 2030 aims to generate stable innovation networks which foster better understanding on Central Europe Advanced Manufacturing and Industry 4.0 ("CAMI4.0") topics, to generate improved knowledge resource exchange on these technologies leading to an upgraded framework for policy-making and implementation.
In the following weeks our purpose is to provide an introduction and overview to the key working group and innovation network structure in CEUP 2030, the Trend and Innovation Network. Trend & Innovation Networks (TINs) will be organised as digital communities of stakeholders anchored around the four main topics of CAMI4.0: Intelligent Production Systems, Automation & Robotics, Smart Materials and Artificial Intelligence.
These topics have been selected in the framework of CEUP2030 project, since they have been recognised as the most strategic topics to be developed in the Central Europe area to maintain the competitiveness of Advanced Manufacturing stakeholders and further develop their knowledge and competences.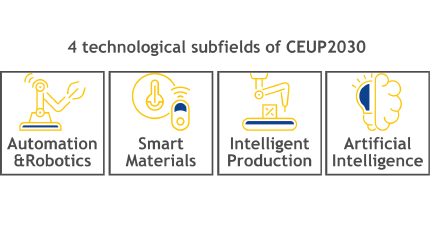 In the following weeks we would like to invite you a "study tour" where we would like to explain in more detailed the above mentioned 4 topics. 
Keep in mind: Knowledge is power!