FINAL CITYCIRLE EVENT IN UDINE – ITALY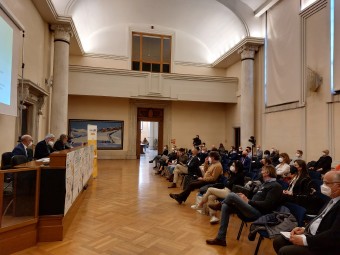 On Thursday 24 March was also held the local final event in Italy, entitled "Udine circular: the city responds to the challenges of ecological transition". The meeting took place at the conference room of the Municipality of Udine.
The speakers illustrated the activities carried out thanks to European funding, the territorial collaborations activated and the results achieved, especially with respect to the feasibility study for industrial symbiosis (pilot project).
Speakers: Pietro Fontanini, mayor of Udine; Roberto Pinton, rector of the University of Udine; Giulia Manzan, Councilor for Territorial Planning and European Projects of the Municipality of Udine; Nadia Vedova, consultant of the European Projects and Participation Office of the Municipality of Udine; Michele Mion, director of the Purification and Engineering Service Division at CAFC SpA; Luisa De Marco, president of NET SpA; Tommaso Ponti, Chairman of Udine Mercati Srl; Letizia D'Aronco, Legal Advisor to Federconsumatori FVG APS; Paolo Bon, president of the Order of Architects, Planners, Landscape Architects and Conservators of the Province of Udine; Matteo Mazzolini, Director of the Fvg Energy Agency; Patrizia Simeoni, contact person for energy and the environment of the rector of the University of Udine - Polytechnic Department of Engineering and Architecture.
Good feedback from the city, more than fifty people in the room, and from the regional media, which gave ample space online and offline to the topics covered during the event.
 "Citycircle will be a point of reference for those who want to activate new initiatives linked to the principles of sustainability in the public and private sectors, including those specific to the circular economy" said Giulia Manzan, councilor of the Municipality of Udine as partner and promoter of the initiative.