Promotion of the Circular Economy in Slovenia at the beginning of the new EU financial perspective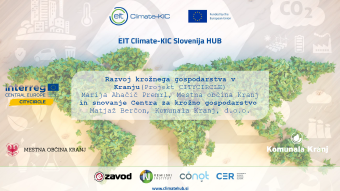 Circular economy is a central theme of the new European development guidelines. The transition to circular economy offers new opportunities, among others the possibility to develop innovation, to increase material independence, to reduce the carbon and environmental footprint, to improve business competitiveness, to develop green market at home and abroad.
At the international on-line event, which took place on 17th of June 2021, many distinguished guests, active in the field of circular economy (representatives of EIT Climate-KIC - the largest innovation community in Europe, representatives of the Slovenian HUB, experts and innovators and representatives of international networks and projects), presented the context of the new European development perspective and some interesting pilot examples of innovative practices in our area.
Since the Municipality of Kranj has been a partner of the EU project on circular economy CITYCIRCLE, project manager Marija Ahačič Premrl presented the development of the circular economy in Kranj and the director of Kranj's "Komunala" company, Matjaž Berčon, acquainted the participants with the design of the Center for Circular Economy Zarica.
The participants concluded the event with a debate on the importance of cooperation in the transition to a circular economy, as we are all the building blocks of the transition and must work together to drive systemic change, which is a condition for creating many new opportunities.
The presentation is available HERE (in Slovenian)