Save the dates - The Citycircle final conference(s)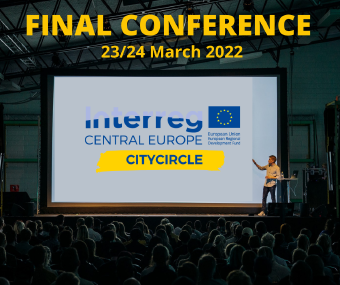 The 36 month long journey of Citycircle is coming to an end on 31 of March 2022! There will be time to asses the achievments and activities in more detail but first we have a busy week(s) ahead of us!
THE FINAL CONFERENCE IN VARAŽDIN (CROATIA)

The final conference of the Citycircle project will  be held on 23rd and 24th of March.
LOCAL LIVE FINAL EVENT IN VARAŽDIN (23.3.2022)
11.00 - 12.00 - REGISTER HERE

The live event will be held in Varaždin, Croatia where two Citycircle's partners are located: The City Municipality of Varaždin and Development Agency North (DAN). The live event of the final conference will be held for local and regional media and stakeholders and the project, the partners, goals and achievements will be presented.

Varaždin attendees and guests, please register for the live event (Wed, 23 March 2022) HERE...

ONLINE FINAL CONFERENCE (24.3.2022).
9.30 - 14.00 - REGISTER HERE // PROGRAM HERE
The second part of the conference, the online event will be held on 24th of March (Thursday). The online conference will be hosted via Zoom and the program includes three sessions ranging from strategic level experiences with Circular economy to the practical exchange of ideas and presentation of Citycircle's and other projects pilots.