Citycircle Final Conference - 23 & 24 of March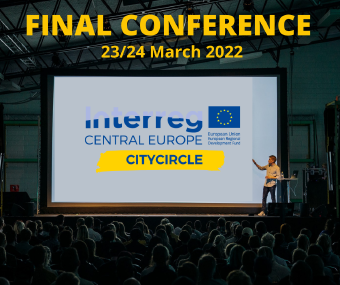 The final conference of the Citycircle project will be held on 23rd and 24th of March. Due to the challenges live events still face, we decided two split it in two parts - the live event and the online confernce.
LOCAL LIVE FINAL EVENT IN VARAŽDIN (23 March 2022)
The live event will be held in Varaždin, Croatia where two Citycircle's partners are located: The City Municipality of Varaždin and Development Agency North (DAN). The live event of the final conference will be held for local and regional media and stakeholders and the project, the partners, goals and achievements will be presented.

Varaždin attendees and guests, please register for the live event (Wed, 23 March 2022) HERE...
ONLINE FINAL CONFERENCE (24 March 2022)
The second part of the conference, the online event will be held on 24th of March (Thursday). The online conference will be hosted via Zoom and the program includes three sessions ranging from strategic level experiences with Circular economy to the practical exchange of ideas and presentation of Citycircle's and other projects pilots. 
All stakeholders and partners who will attend the conference, please REGISTER HERE...
The program* of the online event (Thu, 24 March 2022) is accssesible here (click the picture):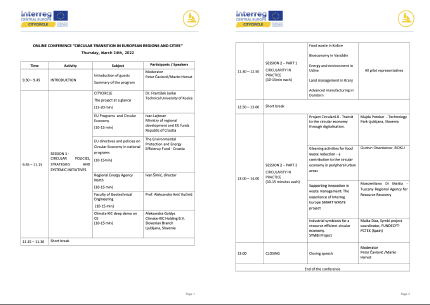 *The program is subject to change