Replay Citycircle's #EURegionsWeek Workshop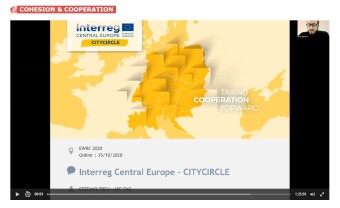 Citycircle was an active part of the "Cohesion and Cooperation" sessions at recent European Week of Regions and Cities. Out online workshop titled "Cities fostering the circular transition", was held on 15th of October from 9.30 and it included presentations from some of our partners but also colleagues from non-partner institutions.
We are very satisfied with the attendance, subjects and discussions we had during the Workshop. It was a valuable experience and the information shared in the session was received by dozens of people that have registered to attend it.

For those who were not able to join us, or missed the opportunity to register the video presentations from our workshop are now available on demand at European Week of Regions and Cities website's "Replay" section. 
You can find them HERE...