Citycircle online event: "Regions and cities foster circular transition"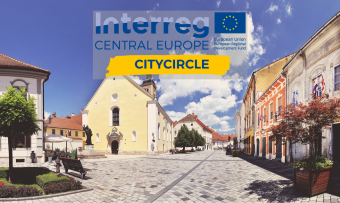 Citycircle will organise another interesting online event named "Regions and cities fostering the circular transition" to be held on November 4th between 9.00 and 12.30. The event, intended for stakeholders but also more general public interested in possibilities of "circular change", will have three blocks of content.
The first part of the event will provide information on the progress of pilot projects implemented in Citycircle partners in cities of Košice (Slovakia), Varaždin (Croatia), Udine (Italy), Kranj (Slovenia) and Dornbirn (Austria).
The second block will host a training by Citycircle German partner, BWCON on circular economy business models for enterprises
The third part of the event, and possibly the most interesting for everyone willing or interested to participate in circular economy HUB in Varaždin, will be BWCON's presentation of the knowledge base and mentoring program. This part of the event is the subject of the Commision (EU) Regulation no.1407/2013 on de minimis aid.

How to participate:
This online event will be organised through  GoToMeeting platform. You don't need to open an account, download the app or register. You can participate simply by following the link  https://global.gotomeeting.com/join/432112301 that will be "live" from 8:45 on November 4th 2020.  
 Event programe:
09:00 –  10:40                         

Experience sharing workshop (TU Košice)

Lessons learned from pilot-projects implementation in Citycircle partner cities of : Košice (SK), Varaždin (HR), Udine (IT), Kranj (SLO) and Dornbirn (AT)

10:40 – 11:25

Circular economy business model training for small and medium enterprises

Various circular business models and how to use them successfully

11:25 – 11:30

Short break 

11:30 – 12:30

Joint training for all Citycircle HUB members (BWCON)*

Presentation of all project-wise already available knowledge and analyses of the mentoring needs




*This part of the event is the subject of the Commision (EU) Regulation no.1407/2013 on de minimis aid