CITYCIRCLE FINAL CONFERENCE HELD IN VARAŽDIN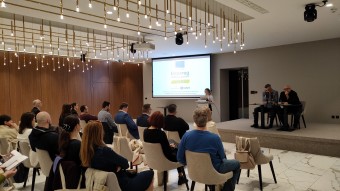 THE FINAL CONFERENCE(S)
The Citycircle project is coming close to the end of its implementation on March 31 2022. The final conference of the project was divided into two parts: a live media event in Varaždin (CROATIA) that was held on 23 of March and an online conference for all the partners, stakeholders and with interesting external speakers that took place on the 24 of March.

MEDIA EVENT IN VARAŽDIN – 23/3/2022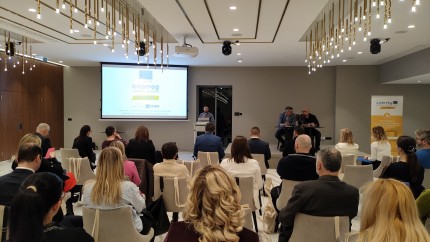 Media event/conference was held in Varaždin with the aim of creating additional visibility for the project in the region. The conference included speakers from the partners (City Municipality of Varaždin and Development Agency North – DAN) and several project stakeholders (Municipal market ltd., Family farm Vrček, CROTEH ltd., Aveor Tech ltd. And Regional energy agency North ltd.) that have presented their motives, goals and achievements within the scope of Citycircle. 
The attendance and media coverage that the conference received confirmed that circular economy and sustainability in general is gaining more and more public attention and that the project goals and outputs, aimed at raising awareness and knowledge in "peripheral cities" have been met.


ONLINE CONFERENCE "CIRCULAR TRANSITION IN EUROPEAN REGIONS AND CITIES" – 24/3/2022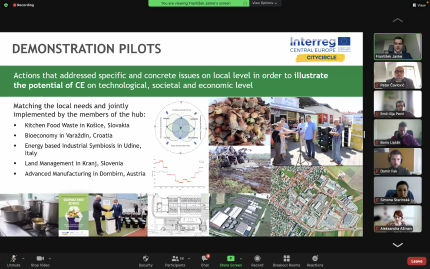 Second part of the Citycircle's final conference was held on 24 March 2022 in the form of a online conference under the subject Circular transition In European regions and cities. The extensive program included contributions from all of the Citycircle partners and several external speakers. 
The conference was divided into two main blocks (and three sessions) and each of them had one main subject. The first session included initial presentation of František Janke, from Citycircle's leading partner the Techinchal University of Košice (Slovakia). 
The session then continued with interesting contributions by external speakers: Ivan Lajtman from the Ministry of regional development and EU funds of the Republic of Croatia, Sofija Petrinec from Croatian Environmental Protection and Energy Efficiency Fund, Aleksandra Goldys from Slovenian branch of the Climate-KIC Holding B.V., Aleksandra Anić Vučinić from the Faculty of Geotechnical Engineering in Varaždin and Zvonimir Perko representing the Energy Agency North (Croatia).
Second session (in two parts) was dedicated to the pilot activities. First block included presentations on Citycircle's  own pilots in all five project regions:
Food waste in Košice, Slovakia (Jozef Bľanda, EGTC Via Carpatia)
Bioeconomy in Varaždin, Croatia (Nikolina Žigmund, Develompment Agency North – DAN)
Energy and environment in Udine, Italy (Mattia Cottes, University of Udine)
Land management in Kranj, Slovenia (Marija  Ahačič Premrl, City of Kranj)
Advanced manufacturing in Dornbirn, Austria (Bojana Suzić, FHV – University of applied sciences Voralberg)
The last block was aimed at presenting some other, coherent and compatible experiences from projects all around Europe:
Project Circular4.0  - The transition of SMEs to the circular economy through digitalisation in the Alpine Space (Majda Potokar, Technology Park Ljubljana, Slovenia)
Gleaning activities for food waste reduction - a contribution to the circular economy in peripheral urban areas (Elisabeth Schmied, BOKU- University of Natural resources and life sciences, Vienna)
Supporting innovation in waste management: The experience of Interreg Europe SMART WASTE project (Vihra Andronova, Bulgarian Association of Municipal Environmental Experts)
Industrial symbiosis for a resource efficient circular economy - SYMBI Project (Maika Diaz, Symbi project coordinator, FUNDECYT-PCTEX Spain)


The online conference was attended by 76 participants and speakers and all the information, experiences and knowledge that was shared confirmed the success of the project and the potential of the network that was established.