Bicycles made of bamboo?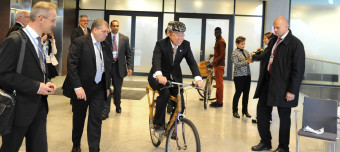 Bamboo is an incredible natural, sustainable and versatile resource. There are thousands of applications where this plant material can and is used. Besides its use in various products and industries, bamboo is a fast growing carbon sink and a mean of restoration for degraded landscapes.
So what happens when a great natural, sustainable resource, such as bamboo, meets the ideas of sustainable development? Project like Ghana bamboo bikes initiative arise!  It is not "just" construction of bicycles out of sustainable resource like bamboo. It is a small circular economy woven into a single project: natural material that reduces carbon emissions, mobility, equal employment, social development. 
And it looks cool, on top of everything.
Read all about it HERE...