COM&CAP meeting in Leipzig shows German health insurance companies new possibilities for faster and long-term successful integration of eHealth solutions
The integration of ehealth solutions into the German healthcare market is a time-consuming process that is made even more difficult by many national regulations. Especially the main players - the statutory health insurance companies and private health insurers - notice this again and again when they want to incorporate new digital health solutions into their range of services.
At this point between the new ehealth solution and the necessary proof of benefits and effects, the new Saxon funding programme "First Evidence" for ehealth Start-Ups is setting a starting point. The project is part of the third project phase of digitalLIFE4CE. In addition to the two digitalLIFE4CE partners HEALTHY SAXONY - VFG e. V. and Gesundheitsforen Leipzig GmbH, DIPAT GmbH and biosaxony e. V. are involved in the project.
On April 4, 2019, Rebecca Winter (VFG) and Beatrice Blankschein (GFL) presented the pilot project "First Evidence" to a broad audience of representatives of public and private health insurance companies at a Communication&Capitalization (COM&CAP) meeting. The COM&CAP meetings are an instrument to communicate project results of digitalLIFE4CE and to ensure a long-term use for the citizens of the project region.
The participants on April 4, 2019 in Leipzig first learned interesting facts about digitalLIFE4CE and were then familiarized with the goals, contents and participants of "First Evidence". The plenum used the opportunity intensively to communicate their own experiences, needs, current problems and best practices in their institutions.
At the end of the COM&CAP meeting, the two digitalLIFE4CE partners sum up the results: "We are enthusiastic about the active participation of the meeting-guests. Now we can transfer the received input into the further development of our pilot project "First Evidence" in order to design "First Evidence" even more precisely.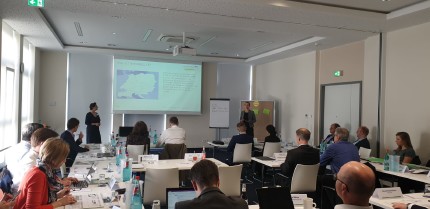 by Beatrice Blankschein