CONNECT2CE makes an impact on the Hungarian Parliament House!
PhD László Palkovics, Minister of Innovation and Technology in Hungary, used CONNECT2CE project and its pilot activity that explored the possibility of scheduled public transport in the cross-border area of Hungary and Austria, as a good example that will be used to schedule new lines between these areas.
Pilot action of CONNECT2CE project tests the transnational tool for the improvement of regional/cross-border railway and public transport connections through the design of a cross-border Public Service Obligations (PSO) between Austria and Hungary involving micro public transport.
In his recent question, Mr Péter Ungár (a member of the Hungarian Parliament) pointed out that although Szombathely (HU) and Graz (AT) maintains a twin-city relationship and are only 40 kilometres apart, it is almost impossible to travel from one to another with public transport. Recent Google Transit search shows that it is easier and faster to travel this distance by foot. He then proceeds to ask a question about any negotiations between two countries to make more efficient public transport between two border settlement.
PhD László Palkovics, Minister of Innovation and Technology in Hungary, in his reply pointed out that, on Austrian school days, two buses take students to Austrian schools in the morning, and two separate buses take them home in the afternoon. However, he pointed out that more interesting is the possibility of the improvement of the scheduled public transport has already been explored in the CONNECT2CE project, co-funded by the Interreg Central Europe Programme. A total of six Vas County settlements, Szentgotthárd, Pinkamindszent, Pornóapáti, Bucsu and Kőszeg, were investigated and finally proposed to reduce the transit time between Austrian and Hungarian trains to Szentgotthárd.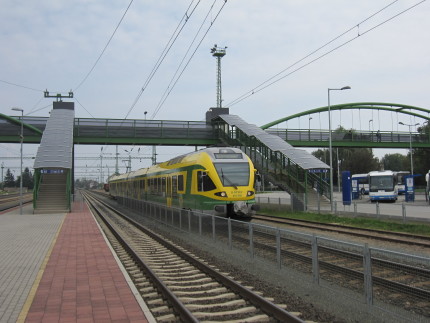 In addition, two completely new cross-border buses were explored.
The new scheduled buses would depart from Graz and follow the A2 motorway. After that, they would go to Körmend via Güssing and Szombathely via Oberwart. An efficient and secured bus connection would be offered at both regional centre towns in the rural Central and Southern Burgenland.
At the end of his response, Palkovics described that scheduling and professional preparation are currently underway. Further negotiations on the technical, personnel, financing, regulatory and other conditions of the new flights could start if a feasible timetable could be devised.