Knowledge exchange with bo-DEREC project
Media representatives, water supply and sewerage operators, sectoral agency, regional policymakers as well as professional community including University representatives have take part on the national conference in Croatia to share their knowledge about the circular urban water management.
At the conference, organized by the bo-DEREC-CE project, Mr. Čapalija (VIK Split representative) has presented the CWC-CE project to the participants during a panel discussion. Some of the key information such as the circular economy in water management and brief information about the CWC project was presented to the participants.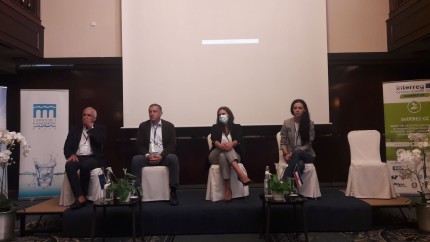 During the panel discussion, Mr. Čapalija has answered questions on the CWC pilot project that gathered were very interested in. The discussion was related to the new kind of the contaminators that are present in wastewater and some of the key challenges were underline such as a lack of regulatory framework related to the contaminators in wastewater.
Bo-DEREC-CE project aims to increase the quality of drinking water in Central European settlements, so there is no question, cooperation and knowledge exchange are essential between the two projects.