City Water Circle meets circular economy
CWC project was presented at the final conference of Interreg Alpine Space GREENCYCLE project on March 5th 2020 in Maribor, Slovenia. The event was hosted by Municipality of Maribor as presentation of best practices of circular economy and networking event.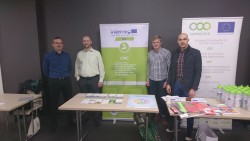 Among different circular economy products and projects, CWC was given a special stand, where promotional material was presented to interested public. More then 40 participants, including local media, also participated as world-caffe type of workshop, where CWC project inspired other participants to start actions for circular use of water resources. The event was excellent opportunity for transnational networking of participants from Alpine Space macroregion including Italy, France, Austria, Germany and Slovenia.