Ceeto Pilot Actions at Lake Santo Modenese
October 22nd, Italy – The aim of this action was to monitor and manage the tourist flows and the traffic and to propose alternative routes to reach the lake and the nearby shelters.
The Park of the High Modenese Apennines, or Parco del Frignano, has a strong cultural identity, an extended hiking network and two important ski areas: Cimone and Abetone. In recent decades there has been a considerable development of tourism but the spatial and temporal concentration of flows and often lack of knowledge / attention of tourists towards the values and fragility of the territory, have given rise to a challenge for an increasingly sustainable management of tourism itself.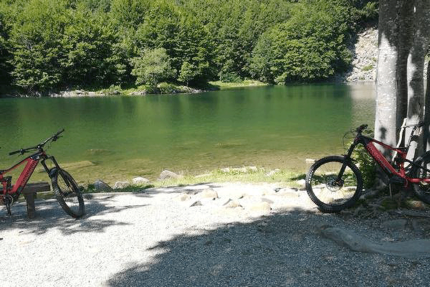 The pilot action of the CEETO project, which has just ended, has been concentrated in one of the most delicate and frequented areas of the Park: the area of Lake Santo Modenese, the largest and most frequented lake of the Park. The aim was to monitor and manage the important tourist flows that invade the area, especially during the summer weekends, managing the traffic and proposing "alternative ways" to reach the lake and the shelters along its banks.
Pilot action "Let's set the lake free"
Through this initiative, whose implementation started in August 10th 2019, the managing body has endeavour to propose alternative ways for vehicles to reach the Lago Santo from Tagliole di Pievepelago. The experimental services, developed and proposed as part of the CEETO project to improve accessibility to Lake Santo, were as follows: 
Preparation of a new parking area at the locality Casa Mordini, with a total of 70 parking spaces.
Activation of a free 8-seater shuttle service that runs every 30 minutes from the 10th to 25th of August in order to connect the car park to the Lake Santo. The first shuttle departs in the morning from the centre of town (Pievepelago) and returns to the same location in the afternoon, being the last service at 5 p.m. On weekends, the service is upgraded with a second shuttle.
Restoration and promotion of a new pedestrian path (in collaboration with CAI), which connects the parking lot of Casa Mordini with Lago Santo, in a walking time of about 1 hour. 
On Sundays August 11th and 25th and on September 8th, the possibility of renting e-bikes at Casa Mordini by Straydogs E-bike.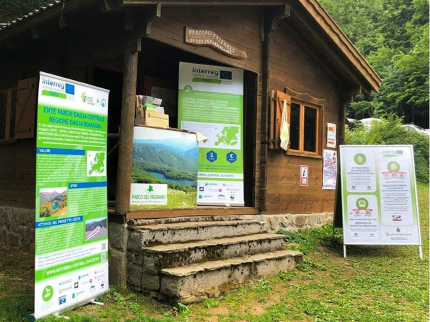 In addition, visitors were asked to fill up questionnaires to better understand the profile, origin and prevailing interests for the attendance of the area. 
About Alto Appennino Modenese Regional Park
Involved in CEETO project as one of its Pilot Protected Areas where CEETO Action Plans for sustainable management of tourism will be tested, the Alto Appennino Modenese Regional Park, was established in and is composed by high-mountain forests, meadows and glacial lakes. Find more information on this park at the Alto Appennino Modenese Regional Park webpage, or watch the short video teaser below: