CerDee - Final Congress

On March 24th the final congress of CereDee took place in Porzellanikon, Selb. In this two-part congress, the first half started with a press conference transitioning into a general conference with workshops for stakeholders. All project members celebrated the Final Conference of the CerDee EU project together at a final conference with subsequent workshops.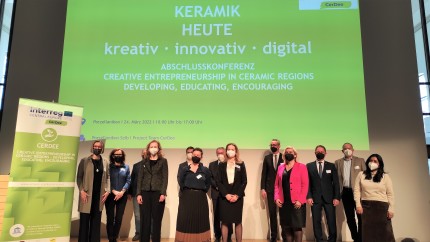 On the picture are From left: Dr. Claudia Casali, director of the International Ceramics Museum in Faenza, Italy; her collaborator Monica Gori; Tadeusz Orawiec, Curator at the Ceramics Museum in Bolesławiec; Dr. Jana Göbel, Head of the EU Projects Department; Dr.-Ing. Jan Tluchor, economist and vice dean of the University of West Bohemia; Alexa Voigtlaender from [hantwerck]; Deputy District Administrator of the Wunsiedel im Fichtelgebirge district Roland Schöffel; Museum Director Anna Dziwetzki; Lord Mayor of the City of Selb Ulrich Pötzsch; Bavarian Minister of State for European Affairs Melanie Huml; Jürgen Hoffmann Mayor of the town of Hohenberg a. d. Eger; Prof. Dr. Andreas Will, Professor for Media and Communication Management at the TU Ilmenau; research associate at TU Ilmenau Nigar Zahan. Photo: Sophia Goldner.

 One of the main outcomes of this project is launching of the digital platform Ceramics in Europe that aims to develop an unique network amongst ceramists, knowledge institutes, SMEs, regions, and museums of Europe. The website can be accessed here www.ceramicsineurope.eu
This platform began as a project to revive and expand the potential of Ceramists in Europe. Eight competent partner institutes from the central European region came together under EU-Interreg funded project CerDee to establish this innovative world for ceramists.
Vision: A digital world which expands the potential of European ceramic. Digital experience, virtual archives, 3D models, engaging tutorials.
Mission: We build a unique network amongst ceramists, knowledge institutes, SMEs, regions, and museums of Europe
Values: Innovative contemporary design ideas. Acquaintance giving each ceramist a platform to launch their dream.
The core elements of Ceramics in Europe are Video Gallery, Virtual Gallery, Library, Ceramists Database, Stakeholder Report, E-Learning, and Marketing Tools. Each of the modules provide interesting and relevant information about ceramics, artists, entrepreneurship, data reporting, and marketing. For example, in the video and virtual gallery, digitized photos and videos with information of the ceramic objects a around Europe are stored. By browsing through library, it allows us to explore various texts and books about the development of ceramics around Europe. For information about our ceramists database and stakeholders report, they can be found in Stakeholder Information. An interactive map and also the report about research comparison among sectors across Austria, Czech Republic, Germany, Italy, Poland, and Slovenia can be found in these modules made by private sectors, student sectors, and comparison of sectors. To learn about Entrepreneurship, E-Learning is designed to give the users an overall concept of Entrepreneurship Education for the creatives. It consists of 10 chapters is designed  for you to help you understand more about Entrepreneurship. Through each chapter, users will unfold the necessary steps and process you will need to think and act like an Entrepreneur. This 10 units/chapters course is a self-learning course that you can stop and start at any time. Each chapter is provided with videos, quizzes, and assignments for the better understanding. Lastly, strategically selected marketing knowledge for the ceramist to help gain knowledge about Social Media, Online Marketing, Direct Marketing, and Collaboration is presented in marketing tools.