10th International BME/VDV Railway Congress
Running under the slogan "Future wagonload traffic in Europe", the 10th international conference on railway logistics took place in Hanover from the 17th to 18th of October 2017. The conference was organized by the Federal Association Supply Chain Management, Procurement and Logistics e. V. (BME) and the Association of German Transport Companies (VDV). More than 140 participants joined the congress.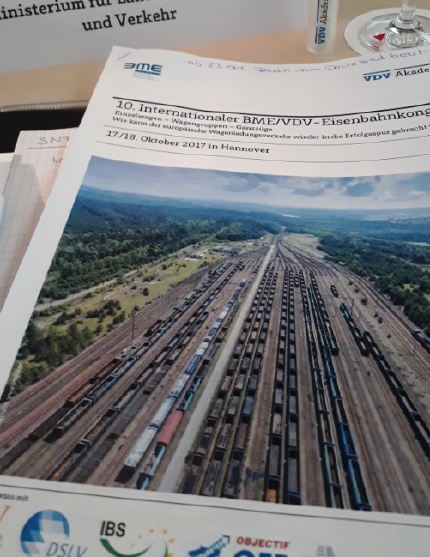 The conference provided the opportunity to join some interesting presentations and to meet with some important personalities of the European railway industry in order to discuss the latest developments available for railway logistics.
The European wagon load transport loses importance to road freight transport and intermodal transport. The pressure is particularly high on the single wagon transport. To answer the question: What can be done to guide the important wagon load transport back to success?
The railway congress focussed on the following topics:
Why do customers increasingly give up the single wagon transport?
Which advantages and disadvantages does the single wagon transport have to the customers?
Which strategies do the railway companies pursue?
Which chances arise from the increased commitment of the forwarding agencies?
Which chances arise for multimodal transport with Rail terminals?
Do we need more direct connections between the Business hubs?
Should we increase our interest in the first and the last mile?
Are mixed trains with intermodal transport an interesting model for the future?
Is the increasing containerisation a chance to the wagon load transport?
In which fields do we need more digitalisation?

Opening of the congress and first panel discussion
Dr. Silvius Grobosch, vice-chairman of the Federal Association Supply Chain Management, Procurement and Logistics e. V. (BME) and Dr. Martin Henke, Managing Director of the Rail Transport Business Unit of the Association of German Transport Companies (VDV) opened the congress. They spoke about current challenges, such as the unexpected closure of the Rhine valley train line or the impact of storms and severe weather on international rail sector. On the other hand they pointed out the chances for the rail sector that arise out of digitization and technical progress. The rail industry is moreover placing their hopes for the 'Masterplan for Rail Freight' that will halve track charges for rail freight traffic as part of a collective effort between the government and rail industry to cut road traffic and reduce air pollution. The Government is spending 350 million Euros to cut charges as part of its 'Masterplan for Rail Freight'.
In the following panel discussion representatives from the co-operation associations DSLV, IBS, UIRR, VAP, WKO and OFP discussed about general conditions and the image of the wagon load transport. They pointed out the very low modal split in all European countries due to the many drawbacks of the wagon load transport beside the transport by truck. Economy and public administration call for the modal shift, but the given conditions are bad. Nevertheless Tino Bauer from DSLV stated that there is a lot of not used potential.
General conditions/market developments/potentials
The state of the art of 3 European countries – the so called "tour d'europe" - was matter in the first part of the conference.
At first Hubert Meier, Head of Rail, Terminal & Fleetmanagement of the Holcim AG in Switzerland spoke about the future of the wagon load transport from shippers' perspective and about the question whether the industry needs wagon load transport or if the rail freight transport can be fully intermodal. Single wagon load is quite popular in Switzerland. The mileage-based heavy-vehicle levy (LSVA), which costs four times as much as in Germany and applies to all trucks on all roads in Switzerland, the ban on Sunday and nighttime driving for trucks and short distances within switzerland are reasons for that circumstances. But nevertheless Hubert Meier does not see that much chances for the multimodal transport because of a lack of suitable container terminals and the need of too high investments in containers and swap bodies.
Dr. Jörg Hilker, Head of Industrial Sales of DB Cargo AG in Germany spoke then about the perspectives of wagon load transport in Germany and Europe and about the question which impulse DB Cargo actually would like to give to this kind of transport. In Germany, DB Cargo carries out a significant part of its turnover with single wagon load (45%). 30% of the turnover relate to block train transport and just 25% relate to combined transport. In the past tense volume reductions made the operation of an economic network difficult. Nevertheless some trends strengthens the meaning of single wagon loads and rail transports in general: 1. innovations in digitalism, containers and transhipment technologies increase the attractiveness of rail transport 2. Truck cargo space is becoming increasingly short 3. The political will of modal shift from road to rail is consolidating. Within their network DB Cargo offer solutions for the individual requirements of several industries, e.g. DBchem-Solution for the chemical industry. With their Railports, DB Cargo also offer customers without siding access to the network.
Last but not least Sylvie Charles, CEO of Rail and Multimodal Freight Transport (TFMM) of SNCF Logistics in France presented perspectives of wagon load transport in Europe and answered the question which impulse SNCF Logistics would actually like to give to this kind of transport. In France currently 40% of the available capacity is not used. So at first they have to better use the existing capacities and then start of thinking about the development of mixed trains in rail freight. Therefore a good common platform is needed to bundle all transport information.  

Networks in Europe – Impulses from digital  innovations?
Within this presentation series some different tools for transport planning are presented. The keywords were Transport and planning processes; award of capacities; monitoring of the state of freight wagons and freight; tracking and tracing; fleet management; proactive maintenance. The different solutions were presented by  
Patrick Sorg, Projekt Director Asset Intelligence of SBB Cargo AG and Rene Höpfner, Senior Project Manager of Bosch Engineering GmbH: Augmented service quality with the digital freight wagon – the SBB-Bosch-cooperation showcase 
Christian Carstens, Consulting Director of leogistics GmbH: New possibilities and technologies of mapping railway processes on SAP technology - Control of operative railway processes by way of leogistics Yard Suite
Michael Breuer, Managing Director of RailWatch GmbH & Co. KG: "He who knows that he knows nothing, has to believe" - The long way from big data to knowledge
Felix Schwarz, Expert Telematic Solutions of SAVVY® Telematic Systems AG in Switzerland: Digitalisation of logistics processes concerning the transport of hazardous goods by way of use cases
Christoph Baum,  Head of Business Unit Rail Logistics of ZEDAS GmbH: The intelligent organisation of integrated rail processes
Networks in Europe – Impulses from site-specific providers
The keywords of this session with 3 presentations were Multimodal wagon load transport; more trimodality via ports; advantages of containerisation and mixed trains with intermodal transport; better integration of gateways/hubs.    
At first Fabienne Margail, Head of Hinterland Department of the Port of Marseille Fos in France presented Chances of multimodal transport chains – How can a seaport contribute to the European rail freight development? After a short introduction about the port, Fabienne Margail spoke about the advantages of rail transport: Competitive on long distance (good way to extend the hinterland), big capacities - allowing to evacuate quickly deep sea terminals, less externalities and a better global transit time than Northern access to Europe. So the main pillars of the Hinterland strategy of Marseille Fos are to develope or to increase 1. Infrastructure to serve rail and barge services 2. Efficiency of rail and waterway global solutions 3. Partnerships with inland ports and multimodal platforms.
Ralf Kirion from the Rail&Sea Group - Croatia spoke about rail freight solutions for Croatia. After presenting rail&sea Group and their solutions, he spoke about the special role of Rail&Sea Croatia. They had start up phase with concentration on train undertaking from borders Slovenia/Hungary over Zagreb to the southern part of Croatia. They achieved in the first operational year a rail market share of 5% in Croatia. They are a strong partner of customized rail logistics solutions - with a specialised experienced team they are able to support demanding requirements for rail transport and optimal solutions
Daniel Bürgy,  Head of Sales and Member of the Executive Board of SBB Cargo AG and Claus Rütten, Managing Director of ChemOil Logistics AG in Switzerland spoke about More direct connections and more frequent pickups  by the customer – national and international approaches for wagon load transport made in Switzerland - SBB sets new impuls in Switzerland. SBB Cargo fits in wagonload traffic to the rising pace of the logistics and has introduced a fully integrated booking system at first. The new delivery punctuality is measured with an entrance delay of 3 minutes! With the automation they create another condition for the further development of the wagonload traffic. More and more block trains are being built internationally with Switzerland. ChemLink connects European chemical centers with regular truckload connections. The ChemOil therefor relies on reliability instead of speed! So how was the responsiveness at Rastatt? Thanks to the great commitment of ChemOil, 70% of the traffic was saved and redirected.
Networks in Europe – New impulses from alternative providers?
The keywords of this session with 2 presentations were: Alternative networks; commitment of forwarding agencies in the wagon load transport; advantages of containerisation; corridor solutions and mixed trains (wagon load and intermodal)
Eric Debrauwere, CEO of Eurorail International, Belgium/France presented Networks in cooperation – Does France show us  new ways within the wagon load transport? Since 2012 more startups and first steps to integrate also wagon load. Today the situation is still difficult, especially due to lots of administrative restrictions and high revendications by national safety board. But France is running significantly behind e.g. Germany. They have good hope with the new government in France that things can change, but "wait and see". So France is certainly NOT YET showing to Europe the best example for wagon load service BUT we do our best to improve the situation and keep a positive flow.
Christian Stavermann, Head of logistics of e.g.o.o. in Germany answered the question, if also shippers are able to set impulses in single-wagon transport and wagon group transport? corresponding to the ENERCON group, the e.g.o.o. has been supporting the leading manufacturer of wind turbines in the rail transport of its system components since 2007. Single-wagon traffic today already has an integral part. Various types of wagons are available – also combination of container transports, conventional wagons and low-loader wagons.
Corridor solutions and smaller wagon load networks – Threat or completion for the classic single wagon system in Europe?
Jan Elfenhorst, Director European Sales & Business Development/General Manager Germany of LINEAS in Belgium answered the question if more direct connections via the Green Xpress Network mean a chance to the wagon load transport in Europe? Lineas is one of the biggest privately owned rail operators in Europe. Of course they offer traditional products like block trains, single wagon load or intermodal. But further more they offer GXN, a total door to door logistics solution – fast, direct, frequent long haul connections with bundled freight completed with first and last mile services. Lineas is connecting block trains with intermodal.
Last but not least Eric Demonsant, CEO of BD Railservices in France spoke about connecting regions with mixed corridor solutions - another example from France. To develop the single wagon load in France they have to imagin trains as direct as possible inbetween regions. And they need to have the origin and destination, a yard to sort the wagons and a multimodal terminal, and eventually a station for transfer of bulk from rail to road. Compared to block train with only 22 to 24 wagons, one way full, one way empty, they can have trains with 32 to 36 wagons or platforms. So the ideal mix is: 10 wagons full, 10 wagons empty (Dedicated traffic) and 12 to 16 wagons either multimodal or backloaded. That means 52 wagons with revenues on a round trip compared to 24.
Conclusion
Transport to and from seaports is mostly done multimodal but especially continental transport shows potential for an increase in multimodal transport. The growth in rail freight traffic takes place mainly on international routes. If not getting a whole train together – mixed trains are a viable solution.
Major problem on LSP's side is the reluctance to share data with other LSPs – all participants of the congress agreed with that problem. Digitalism is the main topic of the upcoming years. Technically all requirements are met, but the task is to collect, process and use data in one common tool in whole Europe!