CitiEnGov 3rd Transnational Energy workshop in Weiz
Already for the third time, the  project partners cities Grodzisk (Poland) and Weiz (Austria) met in the context of the joint project "CitiEnGov" for a workshop in August 22-24. Highligh of the event was the launch of "One Stop Shop Energy Service Centre in Weiz & Grodzisk".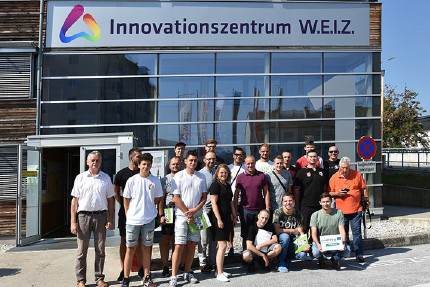 On the practical side, on the morning of 23 August 2018, on-site exploration of some of Weiz's energy viewpoints were on the agenda. These were combined with  transnational info and trainings session on the subject of Ecological Building and Energy Efficiency and study visit tour to energy best ptractise places in the city of Weiz, among which Geminihaus, Funergy Park and Grüne Fassasde Rathaus. Concerning the Gemini House of Weiz the focus was set on photovoltaics and passive houses. Additionally, the topic of blackout protection through photovoltaic systems and energy storage was highlighted in both the practical and the theoretical part of the workshop. For this purpose, the municipality of Weiz also offers the opportunity to obtain information as part of the KISS consultation.
With this KISS consultation it was observed , how efficiency of its PV plant can be increased using  simultaneous installation of an energy store, and how  to be protected at the same time against Blackouts.
The event continued in the Energy and Innovation Centre of Weiz with theoretical  part on the subject of Ecological Building and Energy Efficiency.
Futher,  Mr. Klaus Uwe Feichtinger, member of the Austrian parliament, environmental speaker of the socialdemocratic party was invited to start off the last day of this event. 
Finally, on Friday, 24 August 2018,the event was closed  intensive work was carried out on joint energy concepts and topics, such as the implementation of energy showrooms in both partner cities, and the state of the art of the partner cities with regard to the creation of an energy showcase road was ascertained and further practical steps were agreed.
This transnational energy workshop in Weiz is an EU-funded measure of the "CitEnGov" project of the "Interreg Central Europe" programme line for the sustainable development and implementation of energy strategies and measures in Central European cities and regions, co-financed by the Province of Styria!