Climathon 2020 – throwback and results
We are very impressed – at the annual Climathon, a virtual hackathon all about urban climate innovations, 400 highly motivated participants, coaches and experts worked for 24 hours to come up with creative, new ideas! Together with six other Impact Hubs, Impact Hub Leipzig organised the Climathon and the participants brought together 40 solutions to 14 challenges for more climate protection and climate justice.
EfficienCE was also part of the Climathon, with the goal of supporting sustainable urban development. The precise challenge offered from EfficienCE was: "How can mobility in Leipzig be made sustainable through the common use of traffic and mobility data?"
With the setting of a rapidly growing population in one of the most dynamic cities in Germany, and therefore an increased need for a sustainable and efficient public transport system, this seemed to be a perfect challenge. Leipzig will undergo big changes as a city in the coming years and we want to be prepared with innovative methods and strategically developed solutions.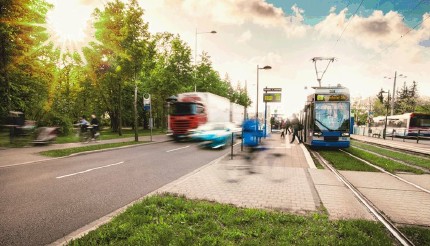 The team which worked on our challenge during the Climathon did a great job: after 24 hours the idea of the "Green Open Data Platform" was born.
This platform could enable communal and sustainable use of Open Data in Leipzig and convince the citizens of the advantages of Open Data in order to generate an improvement for the climate. The approach focuses on a transparent handling of Open Data. Ideas for an increased participation in the topic have been formulated as well: the so-called Green Open Data Meet-Ups, simple options for inquiry and a project marketplace.
The gathered data for different climate goals would be collected on a climate dashboard, the Green Open Data Platform, and citizens could be activated and motivated to take part in making the city more climate friendly.
The data collected in the Green Open Data Platform could be used to further improve future concepts for public transport and therefore contribute to climate protection in the city.
We are excited by the vigour and all the creative ideas of the Climathon Germany and we thank everybody for being a part of it! We will discuss the options for further development of the Green Open Data Platform with the team and plan the next steps.
Photo: City of Leipzig