Competence building workshop for Split FUA
The Competence building workshop for Split FUA stakeholders was held online on the June 3rd, 2020., and was attended by 34 participants.
Webinar was successfully organized by Public institution RERA S.D. in cooperation with VIK Split and the speakers were from Faculty of Civil Engineering, Architecture and Geodesy.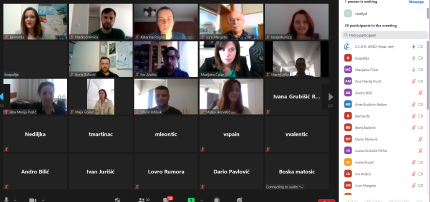 Topics covered during the online Competence building workshop were:
• Rainwater and greywater management (Assist. Prof., Ivo Andrić, Ph.D.)
• Water losses and efficiency of water supply system (Full Prof., Jure Margeta, Ph.D.)
• Management of urban water systems (Assist. Prof., Katarina Rogulj, Ph.D.)
The participants were very interested in mentioned topics and they were very active during the workshop and regarding to that, Competence building workshop was very successful. 
The presentations in Croatian language are available under the Digital Learning Resources.