The 'Regional Transportation Plan' - a strategy for a greener Stuttgart
Stuttgart: one of the industrial hearts of Germany, birthplace of the car and home of many (upper-)middle class citizens that commute by private vehicle. Besides the development of transportation infrastructure, the city cannot keep up with the pace of the demographic development of Stuttgart Region. High traffic volumes, in combination with a topography that fosters pollution, has been a significant challenge for the capital of Baden-Württemberg. 'Stuttgart Region', project partner of Dynaxibility4CE, aims to solve this problem with their new 'Regional Transportation Plan', which is embedded in the 'sustainable regional mobility plan' of the 'Verband Region Stuttgart', a public body of 12 regional associations. You can download the entire plan in German here.  
This plan is an essential contribution for sustainable mobility to be achieved by future-oriented spatial planning. The main aim should be to both guarantee the mobility and transport needs and the accessibility of functional centres for all societal groups by reasonable costs.
The recently published strategy is the fact-based foundation for the achievement of goals, that pursue a durable transportation development on a regional level. Therefore, it serves as a target-oriented strategic concept for the development of transportation infrastructure in Stuttgart Region.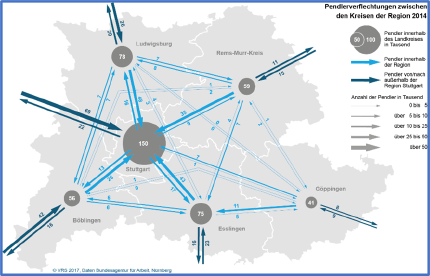 The Regional Transportation Plan, which was approved by the regional assembly in July 2018, is based on an efficient regional traffic model as planning tool, that generates forecast data for the year 2025. Additionally, the Regional Transportation Plan, which supersedes the original strategy from 2001, shows prospective demands at a regional scope and is a sectoral plan for the comprehensive Regional Plan of Stuttgart region. 
It verifies in detail both measures of traffic and measures considered relevant for the Regional Plan, like keeping train or road lanes clear. Furthermore, the Regional Transportation Plan serves as a base for political consultancy and reinforces claims for needs-based infrastructural development. It forms an essential base for urban land-use and traffic planning of the municipalities in Stuttgart Region.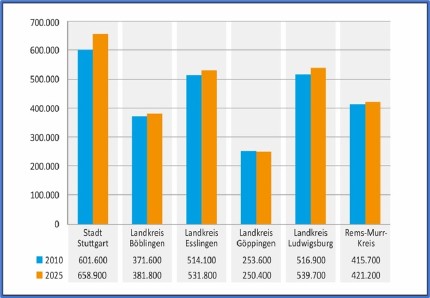 The compilation process of the Regional Transportation Plan has been shaped by a transparent and participative approach. A broad stakeholder engagement has been fulfilled. Civil society, municipalities, NGOs, research institutes and public agencies were involved.
It should be emphasised that for the first time within regional transportation planning, a strategic environmental assessment and specific climate proofing have been produced. In general, the wider SRMP of Stuttgart Region focuses on the impact assessment of the different measures in a multi-criteria evaluation. Criteria like environment, climate, regional development, costs and traffic are integrated into the evaluating target system.
Altogether the Regional Transportation Plan considers reciprocal relations between development, open space and traffic planning. Due to these factors, the Regional Transportation Plan has been certified as a SRMP and serves as an inspiration for traffic planning in functional urban areas.