BKK enhances journey planner app for Budapest's public transport services
The Dynaxibility4CE project partner BKK has released a new journey planner with new functions, which will facilitate the trip planning and integrated new functions, such as real time public transport information, as well as ticket and pass sales via the app. You can find the press release from 7 February 2022 here.
These changes also moved the decision to change the name of the app from the original Hungarian name 'Futár app' to 'BudapestGO', a more international version, which will help international tourists or expats to find BKK's solution in the app stores of Android and Apple.  
Any ticket is purchasable via the app and time-based tickets, such as 30- or 90-minute tickets, will be available from March 2022 onwards. Furthermore, monthly subscriptions can also be purchased and cancelled via the new 'BudapestGO'. Those subscriptions are automatically renewed if the user prefers it. These features allow users a great flexibility and an enhanced overview of potential costs. Thus, the management of a monthly subscription is as simple as an Amazon Prime or Netflix subscription. 

Additionally, preferential route planning, which allows the user to select their preferred mode of transport, is also available. Live traffic information from the public transport provider is also available, which supports the route finding by highlighting delays and offering alternatives. This live information can even be sent to the user via push notification.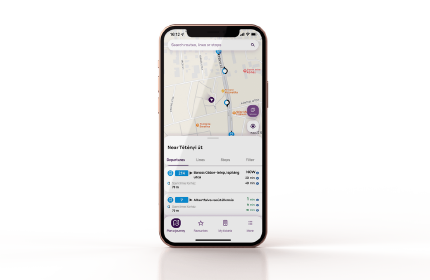 In the upcoming months, BKK will add new features, such as options that cater the demands of the visually- and physically impaired users. Current developments include the integration of topographical data and demand-responsive transport services, such as the Telebus service. Dynaxibility4CE appreciates the latter, as attendees of the Dynaxibility4CE-Smacker joint webinar on demand responsive transport were impressed by the DRT solutions provided by BKK.
Even though the list of features is already extensive, BKK is planning to integrate additional services in the upcoming months and years. This includes, for example, the potential integration of parking information and payments, as well as combined tickets for families. At one point, it might even be possible to book and pay for cultural events through the app.