ITS World Congress provided boost to Dynaxibility4CE outreach activities
Dynaxibility4CE shared its aims and progress at the stand of Polis Network on the exhibition floor of the ITS World Congress in Hamburg. Project partners from Stuttgart Region, Polis Network and Rupprecht Consult engaged with stakeholders, technical experts, and city representatives from across Europe and beyond. 
Exhibitors and visitors from more than 60 countries discussed about the latest technology related to intelligent transport systems, including people-movers, drones, autonomous shuttles and innovative MaaS solutions. Overall, more than 13.000 participants found their way to 'Messe Hamburg' during the five exhibition days between 11-15 October. Thanks to the coordinated efforts of several EU-funded projects, Dynaxibility4CE was able to engage with many experts on the exhibition floor.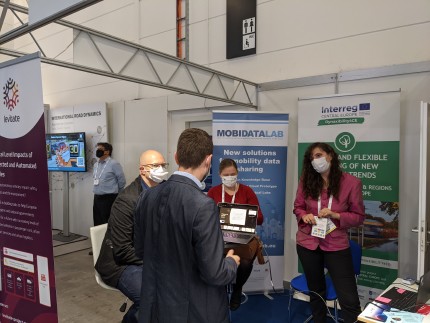 Additionally, Nadine Müller, traffic planning expert of Stuttgart region, presented first Dynaxibility4CE project results, focusing on a transport modelling study concerning on-demand services, which are a potential supplement to the currently existing bus lines. The results, which were presented in session 56 'Assessing the impacts of autonomous vehicles for integrated planning', highlighted that the impact of the on-demand services would also increase pollution across the assessed area of the Schurwald, a less densely populated area of the Stuttgart region. Müller emphasised that the willingness of citizens to switch from private vehicles to public transport or on-demand services is one of the main factors to achieve the decarbonisation efforts, which are enshrined in regional traffic plan of Stuttgart.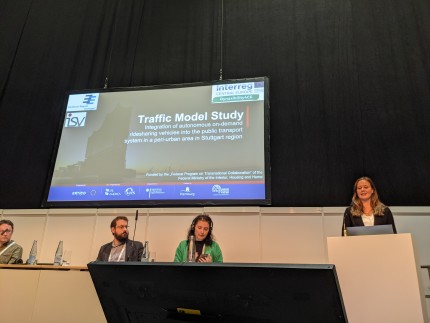 Besides various dissemination efforts and discussions with experts, the global event in Hamburg was one of the first opportunities for the wider ITS and urban mobility community to meet in person, after the significant impacts of the COVID-19 pandemic. Thus, project partners and interested stakeholders also used the opportunity to physically meet for the first time after more than 18 months.