Dynaxibility celebrates 20th EUROPEANMOBILITYWEEK across Central Europe
Walking and cycling together with friends and neighbours, participating in workshops and enjoying a car-free city for a day – all these activities were part of the celebrations of the EUROPEANMOBILITYWEEK across Central Europe and beyond. The annual event, which took place from 16-22 September, celebrated its 20th anniversary this year. Various project partners and their respective cities celebrated this year's theme of 'Move Sustainably. Stay Healthy'.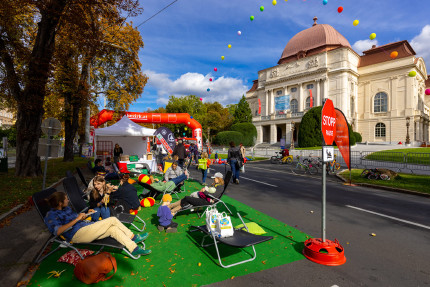 Healthy people and bikes in Krakow
Krakow supported this theme by offering several stands to provide check-ups for citizens and their bikes. While locals could drop off their bike for a quick check-up to fix a tire or adjust their breaks, they also had the opportunity to learn about first aid and anti-COVID-measures. Further negative health impacts, such as pollution were highlighted. Some of the lucky passers-by could even grab a Dynaxiblity4CE leaflet and learn more about our project.  
Car-free day in Leipzig
The German neighbours in Leipzig were equally excited about the full return of the EUROPEANMOBILITYWEEK after the limited events of 2020, which were impacted by the COVID-19 pandemic. E-bikes were tested, and the 'Promenadenring' around the inner city of Leipzig was used as a big path for pedestrians and cyclists.  
City tours and big plans in Parma
Parma used the opportunity to announce their plans to establish a zone with urban vehicle access regulations (UVARs), which will cater as an extension of the currently existing car-free areas in the city center. Furthermore, citizens were invited to participate in walking tours to experience the historic beauty of Parma by bike or on foot. Even a special city tour was organised with the focus on street art and murals.  
Mobility raffle in Graz 
Graz also has a long-established tradition of celebrating the EUROPEANMOBILITYWEEK in the historic center. One of the main axes in the city center was blocked for car traffic, which freed up space for pedestrians to stroll around and participate in various activities. The inhabitants of the second largest city in Austria even had the chance to win several public transport tickets, bikes and a weekend in the countryside.