EfficienCE is on SUMP-central
From now on, news related to the Interreg EfficienCE project can also be read on the SUMP-central platform, the European competence centre for sustainable urban mobility planning (SUMP)!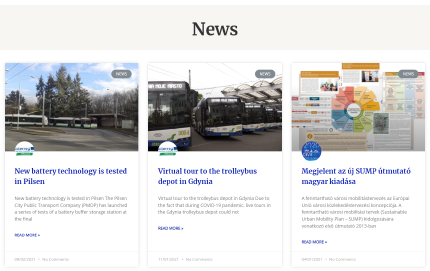 The
Virtual tour to the trolleybus depot in Gdynia
and the
New battery technology tested in Pilsen
articles are already on the webpage. 
About SUMP-central:
The SUMP-central was developed within the Interreg CE project LOW-CARB. The aim of this platform is to support cities and regions in Central Europe in developing sustainable urban mobility plans (SUMP) by providing information in Central European languages.
This platform is not only aimed at experts in the field of sustainable urban mobility planning, but also those interested in this topic. What you will find when visiting the website:
news from different European projects,
SUMP documents with country specific information,
best practices to see how European cities use different modes of transport to achieve sustainable mobility and improve quality of life,
and relevant tools and learning material to achieve sustainability goals.
The site is currently operational in a beta-phase, while an open call for contributors to co-create its content is in progress! Are you a stakeholder of Sustainable Urban Mobility Planning? Find out how you could contribute, download the SUMP-Central Open Call for experts and practitioners.
Background photo: https://sump-central.eu/