Green and Sustainable Tourism Workshop in Zagreb, Croatia
The workshop aimed to enhance sustainable tourism in this country and was attended by more than 60 representatives of different institutions involved in this sector.
At the beginning of May, the Croatian Ministry of Tourism gathered various stakeholders with an aim to share ideas in relation to the improvement of the environmental sustainability of tourism and tourist valuation of natural heritage in tourism. More than 60 representatives of national institutions, public institutions responsible for protected areas management, research institutions, tourist boards, entrepreneurs, clusters and NGOs presented their work and discussed ideas for the sustainable use of natural resources in tourism, management of tourist visits, presentation and promotion of destinations and the improvement of tourist services´ competitiveness through various ˝green˝ and innovative solutions.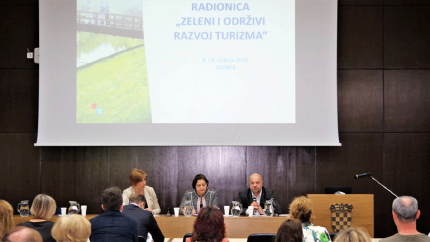 Natural beauty and untouched nature are the main attributes of Croatia's image and present one of main attractors for visitors. Various activities are taken on all levels to sustain natural, as well as cultural, heritage and change the attitudes of local communities and visitors. This opportunity was taken to present the CEETO project and activities towards the efficient planning, management and monitoring of tourist visits in protected areas.