Com&Cap Meeting in Leipzig: Leverage of the digitalLIFE4CE outputs successfully in progress 
Today, HEALTHY SAXONY – VFG e.V. and biosaxony came together in a Com&Cap Meeting to talk about the further cooperation in digitalLIFE4CE project. The goal was to discuss the involvement of biosaxony for long term leverage of the results that are currently generated in the Central European Digital Health Excellence Spot (CEDHES) in Leipzig.
"biosaxony sees the potential in the cooperation on long term. We think that, for our members and business partners, the network for market entries into Slovenia and Croatia, as well our engagement in "Erste Evidenz" is a very interesting opportunity.", says André Hofmann, CEO biosaxony.
During the meeting the participants discussed how to provide support for companies in the field of medtech and eHealth from abroad and to abroad, to successfully expand their business and create new cooperation.
"I am very happy that biosaxony will exploit the CEDHES outputs of digitalLIFE4CE after the end of the projects life time. This is a big value for Saxon companies and demonstrates how central cooperation is in projects and beyond.", resumes Rebecca Winter, Head of Communication digitalLIFE4CE.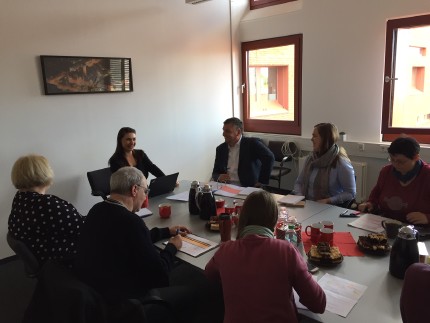 by Rebecca Winter