HealingPlaces project presented during the conference "Common resources for common development. Cooperation of municipalities and spa companies", organized within the framework of Spa 4 Development project
On 1st and 2nd October 2020 in Świeradów-Zdrój a Czech-Polish conference entitled "Wspólne zasoby wspólny rozwój. Współpraca gmin i przedsiębiorstw uzdrowiskowych" organized within the project "Spa treatment on the Czech-Polish border and its contribution to regional development - Spa4Development" (https://spa.euwt-novum.eu/o-projekcie/). Participants of the conference were local governments from SPA communities, representatives of SPA companies and representatives of the scientific world from the Polish-Czech borderland. The conference was conducted in Polish and Czech.
The leading theme of the conference was the cooperation between the local government and the spa company, both in terms of providing spa services, creating jobs and creating space.
In the discussion the issues of the greatest difficulties of this cooperation were discussed - both in Czech and Polish conditions.  The principles and best forms of cooperation were discussed; the issue of cultural heritage of spas and its influence on the development and recognition of the municipality was also raised.
Important topics were also: protection of mineral and therapeutic water resources and broadly understood development of spa economy. Within the framework of these issues, the approach and current results from the HealingPlaces project were presented by representatives of the Central Mining Institute (GIG).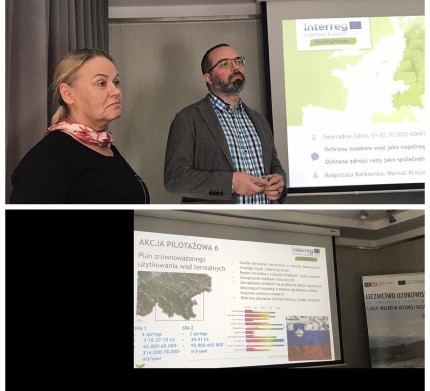 In addition to discussion and exchange of experience, the time of the conference was an opportunity to see the beautiful Świeradów-Zdrój and to learn about the activities and history of the health resort.