I-CON Training Academy
I-CON project Training Academy dedicated to the food innovation sector took place in Treviso from 20th to 22nd March 2018 hosted by UNIS&F Lab. It was focused on aspects related to mechatronics, food design, packaging and hygiene and the safety of food for the agri-food sector.
What happened during the 3 days?
Thanks to small classes, working groups and in-depth workshops organised in Palazzo Giacomelli, the headquarters of Unindustria Treviso and the classrooms of UNIS&F, a great opportunity to deepen and increase knowledge for all the participants involved in the initiative. Among the many topics, from the theme of food or beverage packaging has emerged that the perceptual aspects are decisive in the choice of purchase, because the buyers see, touch, smell the packaging before its contents.
To make a successful product you must have clearly understood its characteristics from the drafting of the project brief, as demonstrated by the various companies invited.
the accademy was organised on 3 thematic topics and 23 facilitators were trained.
As the project activities, the training has been focused on the search for solutions to improve skills in the food sector, through an intersectoral cooperation between mechatronics (process technology), biotechnology (food safety) and food design (packaging).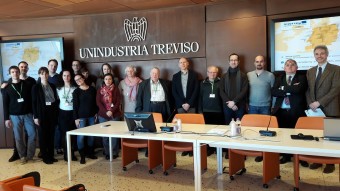 Few considerations of our experts about Food Sector and the training activity 

Lorenzo Secco (IUAV) for Training Academy I-CON

Sergio Girotto (ENEX SRL) for Training Academy I-CON

Paolo Busolin (GRANZOTTO SRL) for Training Academy I-CON

Eva Breuer for Training Academy I-CON

Valentina Gandin (UNIPD) for Training Academy I-CON

Giovanni Lera (VELO SRL) for Training Academy I-CON

Borut Zrim for Training Academy I-CON

Andras Sebök for Training Academy I-CON