IX International Birdwatching and Naturalistic Tourism Fair in Comacchio, Italy 
The IX edition of the International Birdwatching and Naturalistic Tourism Fair took place in Comacchio (Ferrara), Italy, from April 28th to May 1st, a record edition that registered over 20'000 visitors.
"Every day is Sunday in these days", some merchants happily said, because Comacchio has been filled with tourists from all over Italy and Europe who have crowded not only the Exposition Village on the Fattibello Riverbank, but also the excursions into the valley, the exhibitions photographs at Palazzo Bellini, the evening screenings, the conference dedicated to the MaB areas (Man and Biosphere - UNESCO), the Manifattura dei Marinati and the Museo Delta Antico. In other words, a diffused Fair that was able to make Comacchio known in its various facets.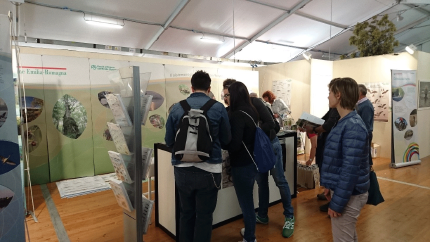 "An audience that during the various editions has grown quantitatively but also qualitatively" - says Angela Nazzaruolo, director of Delta 2000 - "with more and more visitors really passionate and pointing to new forms of tourism."
Even the national press kept the attention on the Birdwatching Fair: after the services aired on Tg3 and Tg1 at 8pm on Sunday, a troupe of "Noah's Ark", TG5's column, visited the fair and whose service aired on Sunday 6th of May.
An event that is reconfirmed, in its national and international importance, as an excellent showcase for Comacchio and throughout the territory of the Delta that, as confirmed also by the Mayor Fabbri, thanks to the recognition MaB has had new strength and cultural ferment.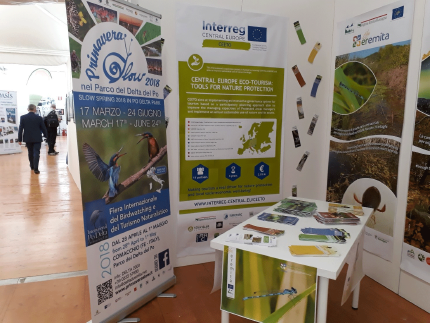 During the whole Meeting two Roll-Up of the CEETO project were also exhibited: the general one of the whole project, at the Emilia Romagna Region stand, and the one related to the pilot project on the Po Delta area, one of the 8 pilot areas of the CEETO project as well as the heart of the fair itself.